Daphné Du Barry:

What is beauty?
19 October 2022 | 28 minutes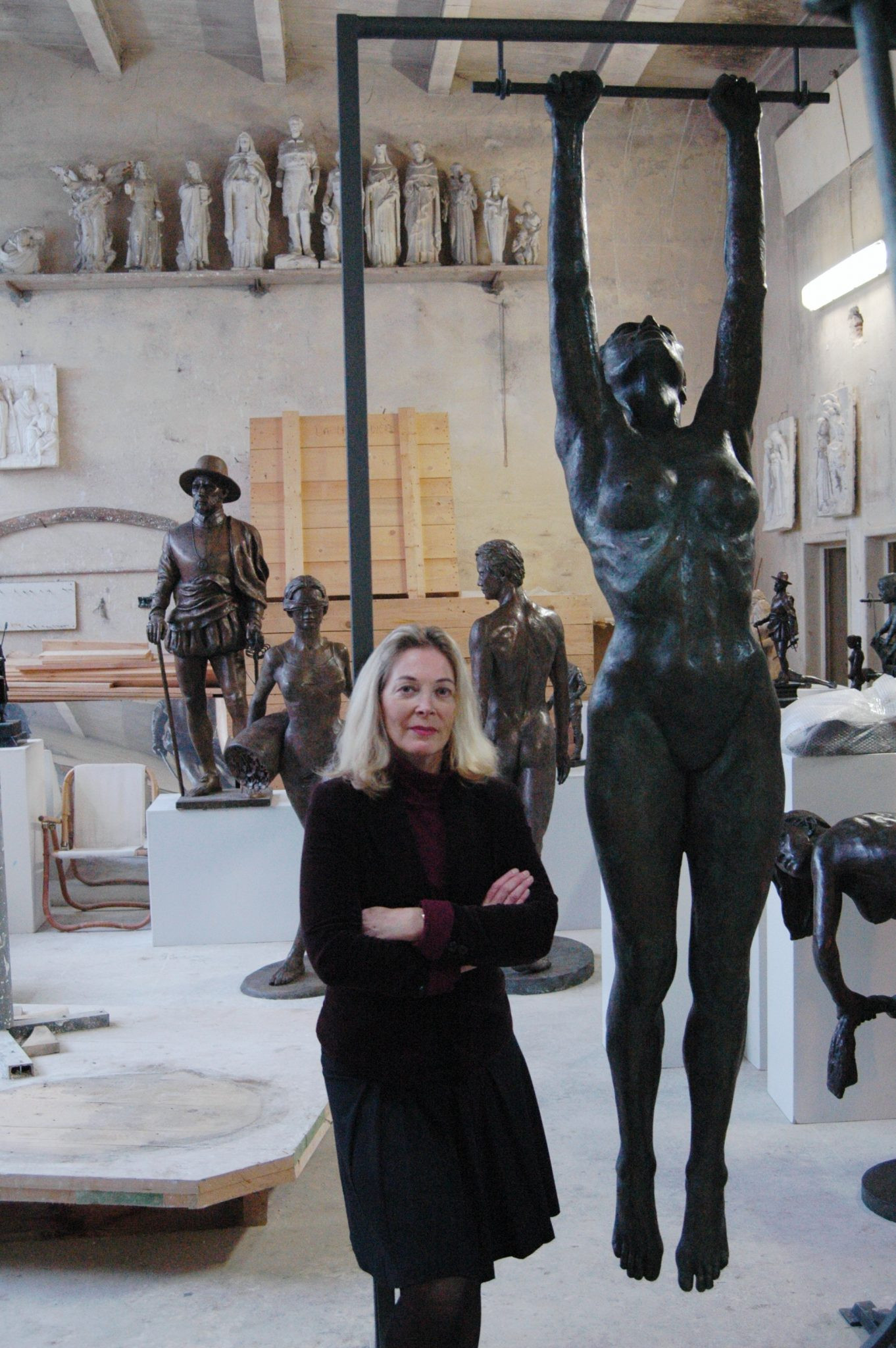 Daphné Du Barry in her studio. Photo: MUSA
Celebrated figurative sculptor Daphné Du Barry speaks seven languages and modelled for Salvador Dali in her 20s. She discusses her bronzes, her love of learning and her faith.
Born in Holland, Daphné studied at Munich University and afterwards, at McGill in Canada. Later she enrolled at the Sorbonne in Paris to study modern literature. She had a brief career as a chanteuse in Paris and then became an artist.
She studied drawing with the Hungarian master Akos Szabo, then in Florence she learnt from Marcello Tommasi, one of the great masters of classical figurative sculpture.
Daphné met her husband Jean-Claude Du Barry, an art critic, at the home of Salvador Dali in Spain and it was love at first sight. She tells us of his influence on her and how she values observation and continuing to learn all our lives. 'Sometimes', she says, 'we look but we don't see'.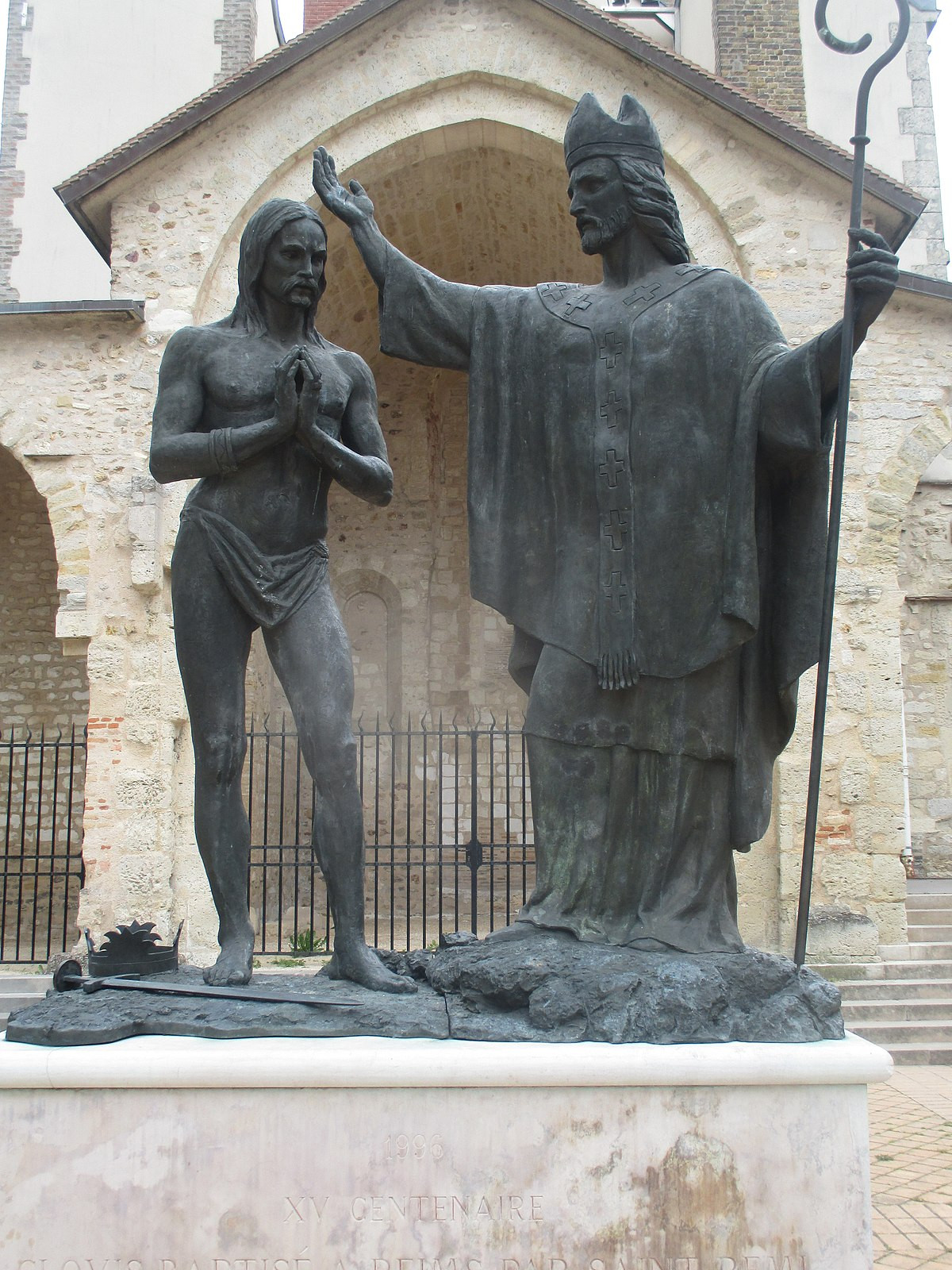 Daphné Du Barry, The Baptism of Clovis by St. Remi, Rheims, France, 1996
Her first huge monument was The Baptism of Clovis by St. Remi, in Rheims, France in 1996. It was during the making of this statue of the first catholic king of France that she met Pope John Paul II, which changed her life.
Daphné Du Barry, La Fortune, bronze, commissioned by Casino de Monte-Carlo. Photo: Shay Tressa DeSimone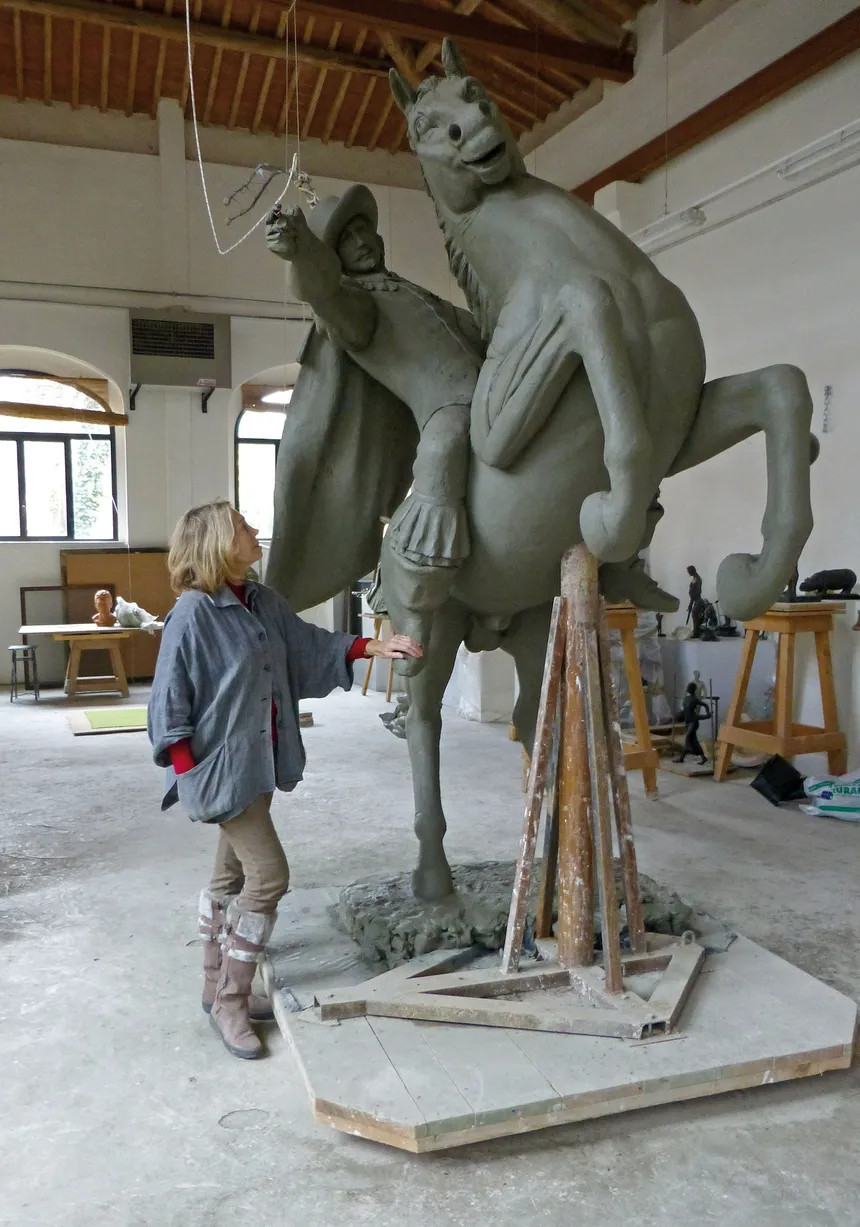 Daphné Du Barry, D'Artagnan in Gascony. Photo: Antonio Cozza
D'Artagnan in Gascony (above), captain of the musketeers, was created with her husband's memory in mind, a project he would have loved her to realise.
Daphné Du Barry (00:12):
What is beauty? Dostoevsky said so, "we can't live without beauty. Beauty will save the world." And then according to Plato, it is the splendor of truth, harmony, perfect proportions and the balance of shapes. And Dostoevsky would say, "Beauty shall save the world." And I think so too. We can't live without art, without beauty, it is impossible. Any art, can be also singer, an opera singer, all the arts are connected.
Sarah Monk (00:53):
Hi, this is Sarah with another episode of Materially Speaking, where artists tell their stories through the materials they choose. Today I'm meeting Dutch sculptor Daphné Du Barry in Pietrasanta. Daphné's Studios are tucked away, a short walk from the central Piazza Duomo home to the church of San Martino, which dates back to 1223. The majestic church has three marble adorned knaves and is decorated with marble bas reliefs of the crucifixion, the deposition, and the resurrection.
Sarah Monk (01:27):
As I enter Daphné's studio, we come through an elegant room with a small round table, a treasured photograph of Daphné with her late husband and a joyful vase of flowers. Then we step into her high ceiling-ed studio where she starts her creations. Around us are many clay models, some covered with plastic to keep them moist, and bronze statues in the figurative style for which she is so well known. And as we sit down, right next to us is a bronze model of d'Artagnan, the famous Musketeer, on a horse rearing up on its hind legs. I asked Daphné to introduce herself.
Daphné Du Barry (02:11):
My name is Daphné Du Barry. I was married to Jean-Claude, a noble man from Gascony. I met him at Salvador Dali's home in Spain. And that was love at first sight. Jean-Claude was art critic and he wrote about artist, journalist and it was for me, perfect to have an art critic because he could see everything with his eyes. And I liked to be criticized in a positive way, which makes you grow. So that was a perfect match. I had a girlfriend, Spanish. From time to time, Dali would call her to pose and she called me up. She said, "Why don't you come with me? I'm going to have tea at Salvador Dali's home." And I said, "Well, why not?" I didn't really know him that well and I was in my twenties. I thought it was very exciting. So I went there with this friend Carmen, and then I met Jean-Claude, my future husband, because he was there at that moment at the house of Dali.
Daphné Du Barry (03:37):
And that's how our beautiful love affair started. I was born in Holland. I studied in Holland. After high school, I definitely left Holland. I studied one year in Switzerland. I studied in Germany at the school for translators. And then I went to Canada, Montreal, where I studied at McGill University. I think we are born with talents. I speak seven languages. I read, I write them. I mean, we are born with talents and I'm spoiled because God gave me many talents, which is very useful. So then I came back to Europe, then I wanted to study since I was a child, like seven years old, I had my guitar. I would compose songs, I would play and I've been singing all my life. So when I was a child, I told to myself, "You shall be a singer," which I was. So I came back to Europe.
Daphné Du Barry (04:48):
I did a few years at the Sorbonne, Modern Literature. Then I did four years at the conservatoire for classical music where I was soprano. And in the meantime I met Jean-Claude. And during about 15 years of my life, I would see Dali the summer in Cadaques Port Lligat, that's where his house and his studio. And since Jean-Claude had his work of writing about artists, so that was really, for me, extraordinary because with all those travels, we would visit museums and that's the best way to study, I think, is with the old masters.
Sarah Monk (05:27):
Did you model also for Dali or?
Daphné Du Barry (05:30):
Yes, yes, of course.
Sarah Monk (05:30):
Yes. And how was it working with him?
Daphné Du Barry (05:33):
Dali was very funny. He would have an idea. Of course, like we all have, artists, we have an idea, we use a model. But then of course you transform the model. Sometimes Dali would transform me, for example, in a fish. He made a book and he would make me, how do you call that? Un sylphide
Sarah Monk (05:53):
A mermaid?
Daphné Du Barry (05:56):
Yes, like a mermaid. Dali was a real genius, so that was very interesting. Master in philosophy also, he had a philosophy of life. You know what the thing is with Dali, he loved beauty, of course, in Dali's home there were always models. The beautiful girls, boys, you can't imagine the beauty of those young models that Dali required for his paintings. And at the same time, Dali was very much interested in science. And in Paris I met Crick and Watson. That's the funny thing is when they talk about the… How do you call it? DNA and Dali would take out drawing from his pocket as well, "I thought this before you." And he showed a drawing who he draw this whole thing-
Sarah Monk (06:50):
He drew the DNA?
Daphné Du Barry (06:50):
Yes. He said, "I have thought about it before you." And that was Dali. Very often those like Leonardo Vinci, those big artists, they see things before in advance, like Leonardo with his airplanes already he thought about it. We could not even imagine that once we would have those flying machines in the air. Can you imagine? So that's what those genius give us. They see much more in advance than we. So that was the beautiful thing about Dali, a huge culture. Very much interested also in science because it's important science, very important.
Daphné Du Barry (07:28):
Then I started to work with leather. I did huge leather sculptures. I did a pieta for a cathedral. I did Klaus Kinski playing when he did this movie about Paganini. And then he posed for me and I did his statue in leather. And that was another period in my life.
Sarah Monk (07:49):
How do you work with leather? I'm sorry -
Daphné Du Barry (07:50):
Well, it's very special because you need a support, which is of course plaster of Paris but very hard plaster of Paris. Like almost like marble, like stone. And then with that you put the drapery on top of it. But of course you have to put it in a way that it looks like almost a wooden sculpture. You, for example, my pietà in the Cathedral of Arches in Gascony, when you see it, it looks like a sculpture of the Renaissance, like wood. And it's very particular, very interesting. But of course you can't put it outside because if not it, well it doesn't get ruined. But the thing is the patina, of course I made patina because the leather it's an untreated leather without any color. It looks like a champagne color. And then you have to treat it and to paint it. I use special colors.
Daphné Du Barry (08:57):
So well that was a period, my leather statues. So I just started again, I met this Hungarian Master.
Sarah Monk (09:04):
Tell me about the Hungarian master.
Daphné Du Barry (09:06):
He said, Oh, well that's beautiful, your leather sculptures, but the real art is bronze and marble and wood. He said, Okay, no problem. So he said, "Now you must study drawing." So I came to the studio and I said, "Oh, you really have talent". Because I said, "Well, if you think it's not worth it, don't worry, it's okay for me." He said, "No, no, you have talent, you have that." So I started for three years to study drawing with him. Anatomy, biology and the study of the muscular skeleton, very important. Then at the same time I met my Italian master also in Paris because I had a studio in Paris. Marcello Tommasi. And he saw my drawings "Oh fantastic but you have to come to my studio in Italy."
Daphné Du Barry (09:50):
And that's how it started, from one thing to another. Everything is connected anyway. And it was like a vocation. When I started, oh my god, with such a passion, you know, can't imagine. My first monumental statue was for Reims. I did the baptism of Clovis by St. Remy. And that was in 1996. We celebrated the 1500 years of the Baptism of Clovis, first Catholic King of France. He converted. And then that's where when I met John Paul II, the Pope, he invited me first to the Vatican and I showed him the small model of the future monument, which he approved. Then I did a monument, which was inaugurated by the Pope John Paul II in 1996. That was my first huge monument. Fantastic. Then I did the Christ on the Cross for the Church of Monaco, which Prince Rainier would ask me to realize.
Daphné Du Barry (11:01):
And John the Baptist for Malta. And I did for the casinos of Monte Carlo, the Lady Fortune. The Fortune with the horn of abundance. And she's blind because you never know when the fortune arrives and when it goes. So when the people go to gamble, they touih the horn of abundance and all the coins that come out or golden coins. And to symbolizes the fortune, everybody wants to become fortunate in a way. The way can be in a material way, coming in a spiritual way. It arrives, I always say it rises with the legs of, what do you call those animals that have their house on their -
Sarah Monk (11:47):
Oh tortoise.
Daphné Du Barry (11:48):
Turtles. It arrives with the feet of the turtle and it runs away with the feet of a leopard. Very fast. You can lose your fortune very quickly.
Sarah Monk (11:59):
But your first commission was with the Pope.
Daphné Du Barry (12:02):
Yes, exactly. And maybe the last one will be, who knows.
Sarah Monk (12:07):
Can we talk about your faith or religion?
Daphné Du Barry (12:11):
Absolutely. And I was working on Marie Madeleine. Maria Magdalena.
Sarah Monk (12:16):
Yes.
Daphné Du Barry (12:16):
And I didn't really succeed, and I got so angry. And so I would cry like that up to heaven and say, well why don't you help me? And I got this help. And of course Jean Claude was Catholic, but he would never force me. I mean he very much respected my way of, well my philosophy in life, of course I had faith, but faith in what? I would've studied anything, Buddhism and Zen and this and that. Nothing did really satisfy me. And at that moment when I got this piece in sight and I made a very beautiful statue and said, Well, this is a real sign. And then I converted very quickly. But I was very much prepared because living - Europe is a Christian. Well, all Europe is Christian. Wherever you go, you find our cathedrals, our churches, our public places there are filled up with Saints and with Christ, and Holy Mary.
Daphné Du Barry (13:28):
And it's full of it. It's our culture, whether you have faith or not. But still, it's our culture. So when you are surrounded by all this, it leaves a trace. It influences you totally. All this beauty that surrounds us, all that you are looking at, it's all being created for love of God. Because all those artists in the Renaissance, they had a huge faith. When you create something, it transcends the person that looks at a painting or a sculpture. And it's been done with that spirit. You bring something more into this artwork. It's not only material, it's not only horizontal. You have this transcendency that's very important. I became Catholic and that was extraordinary for me. My life changed. I'm the same person of course. But it brought light and stability and hope and wow, something that is very personal of course. But it's important to bring light to this world, we need it. And beauty so important.
Daphné Du Barry (14:49):
I am reading this for example, what is beauty? I think beauty do. Dostoyevski said, so "we can't live without beauty. Beauty will save the world. And then according to Plato, "it is the splendor of truth, harmony, perfect proportions and the balance of shapes". And then Dostoyevski would say, beauty shall save the world. And I think so too. We can't live without art, without beauty it is impossible. Any art can be also a singer, an opera singer, all the arts are connected. So that's very important.
Sarah Monk (15:31):
How was it for you meeting the Pope at such a young age?
Daphné Du Barry (15:34):
Oh, fabulous. Fabulous. Because, well John Paul II, when I first met him, I could only feel this tremendous love. It was a person right away you feel at ease. And this love, amazingly very, you can't really describe it. He would take my hands and he would just look at my small piece of the baptism of Clovis and well, that was a very special moment.
Daphné Du Barry (16:08):
And then when he came to inaugurate the monument, those are fantastic people to meet in your life. They change your life, like Dali. Well, my husband of course, first of all. But so many personalities that enrichen your life because people enrichen your life.
Sarah Monk (16:28):
They do.
Daphné Du Barry (16:29):
Dali. I mean I could only listen to him because, and this genius. What I liked is what I miss nowadays. He was like an artist of the Renaissance. He knew so much, you know. You could ask him anything. And he would know because, those people in the Renaissance, they knew everything. They would just study philosophy, theology, other arts and sciences. That's a huge lesson to know, well we have to go on studying all our lives. You never finish. And well with the Pope, well, what can I say? A lesson of love from, well, he is a representative of Christ on Earth. And when he came to Paris for the youth, it was a special journey for the youth. There were 1 million young people from all over Europe. And then he said, don't be afraid, don't be scared. Cry out your faith, with your faith with God. Nothing can happen to you. And it's true, nothing can happen to you. So I think that's a fantastic message.
Sarah Monk (17:53):
And your husband, I know he was an art critic you said.
Daphné Du Barry (17:57):
Yes right.
Daphné Du Barry (17:58):
He wrote about artists, journalist, art critic. So he always took me to museum. When we would travel all around the world in New York or in Greece, Madrid, Le Prado, all around the world, I've been, and that's really the best way to see Art. First, I think before you put it in practice, God is said all that I have not drawn, I have not seen it. And it's true. Once you start to draw that you really have to look at things profoundly. And most of the people, they look, but they don't see. Looking and seeing is very different because when you go and visit all the important museums in the world, your eye gets accustomed. You have to look and see through things. And when I started to draw, then even more. And sometimes it's terrible. I look at people and I go right through them. That's my professional, well, "Comment-on peut dit ca?" Deviation. A professional deviation. So look at people, that's the most important thing. You can look at things and not see them. You can listen to music and not hear it. How many people really see, listen, are able to listen and are able to see?
Sarah Monk (19:30):
I wanted to ask you, how is it for you to get faith into a work of art, to get that melding of faith and religiosity or I don't even know what the word is ?
Daphné Du Barry (19:44):
To bring the spiritual dimension into an artwork? Well, I pray a lot. I pray a lot when I did, for example, when I do a Holy Virgin or well any religious monument, I pray, and then I live in a different way. I eat less. I try to do like we are now we are in the "Epoque of carêeme". I don't know how do say "Carême" before Easter, "Carême".
Sarah Monk (20:13):
Lent.
Daphné Du Barry (20:15):
Lent. And then for certain monuments, that's what I do. And then I let my hand guide. I said, Well, when I did my Christ for the casino, I said, Well, I speak directly to Christ. I said, Well, how would you like me to make you? And I just let my hand guide. Now I have to do this holy version. And I received some graces for other people for whom I prayed a lot, a lot. And she gave those graces.
Daphné Du Barry (20:54):
So I'm going to make this statue, which is of course, I have to do it for church, but I'm almost going to make her for myself to, I would say that, "remercier"
Daphné Du Barry (21:11):
Thank.
Daphné Du Barry (21:12):
Thank her for those graces.
Sarah Monk (21:15):
Can you tell us about d'Artagnan? Where is he now?
Daphné Du Barry (21:18):
Well, d'Artagnan, he is in Gascony where he is born in Lupiac. He was born in Lupiac and he was the captain of the Musketeers at the services of the King Louis 14th, the Gascon, a Gascon. My husband was Gascon. They're very "Fidel", faithful. And he died at the battle of Maastricht in the south of Holland. And the King would cry when he died. So his body was somewhere on a battle fields, and they would never find it. And then very long time ago, I did this small model of d'Artagnan on horseback, which my husband of course loved a lot.
Daphné Du Barry (22:13):
And then the year that I lost my husband, that is 10 years ago, I said to Jean Claude, you know what, I'm going to realize all the things that you still would've loved me to do. The monument of d'Artagnan. And I presented this smaller model in Gascony, to the Mayor and they loved it. And he saieah, that would be fantastic, but we need sponsors because can you imagine it's had some huge cost, and I believed so much in it. I said, Well, I have to make this statue. Said okay, you find a sponsor. I said, Well, I'm not going to wait. And then I met the man. When he saw my model, he started to cry. And they said, Why are you? Well, I'm born here and all my life as a child, I was dreaming of statue of d'Artagnan on horseback. And you are realizing my dreams.
Daphné Du Barry (23:15):
I said, Oh, this is fantastic. And he was the owner of the most important wine factory. So I just did this statue. When I finished it, the mayor called, she told me, lady, she said, We're going for it. And the wine, well Tariquet is the name of it. They're sponsoring the whole statue. I said, well come over to Tuscany the statue is waiting for you? I said, Okay. And there it was. And I did it for Jean Claude. And I said, he would've loved this. So he is in Gascony. And the owner, well he says, This is a love story because I've been dreaming of this my whole life. I wanted this statue. Now it's there. It's fantastic no.
Sarah Monk (24:01):
And it was part of your love story too.
Daphné Du Barry (24:03):
Even more. It's true. d'Artagnan. So the captain of the Musketeers, I made the face of my husband. Yes, I wanted to immortalize my husband in the bronze. And he has the face of the captain of the Musketeers.
Daphné Du Barry (24:24):
And I choose bronze because I love the material. So the texture, it's, I think it's beautiful. And with bronze, you can give patina. So I put on a statue in clay, and then my mold maker comes. He makes a mold, as I told you before on the stone. He brings it to the foundry. And then foundry makes a wax model out of that, which I retouch totally. I control everything. And then we call it the lost wax that's used to do the bronze casting. When the bronze is cast, I again look at everything you know, because you have to retouch many things. And then comes the patina and that. It's a huge, many years, steps to go, but fascinating. And I did another statue, which is a very - it's very strong. I did it long time ago. I love children. And even more because, maybe because I don't have children.
Daphné Du Barry (25:33):
It's just like that. And so I made a statue of the Holy Virgin. And she cries. And she cries. And you have all those unborn babies. And I think that's a statue where I most cried. Cause I looked at all those little babies, just how can my mother can't desire this child? And that was very terrible. But even women that have no faith, they tell me, Oh, but this statue is so beautiful. Cause the Holy Virgin is also a mother. And she does not judge. She's just there. She laughs, she cries and she takes those little babies, she protects them. I think that's a statue where I most cried, because I made seven babies. Cause there are seven continents. And seven is also very important. The number of perfection.
Daphné Du Barry (26:35):
How many times we ourselves, we do things in life. Gee, I think I could have been nicer. I could have been kinder. Why didn't I say that? Why I didn't do this? Why? Because we are unconscious. What I said before we look, but we don't see. We listen to music. People don't hear it, really. And that's the same. We do things in our lives like Christ on the Cross, he said, Well, forgive them. They don't know what they're doing. That's exactly it. My last word, We have to forgive always. Forgiveness.
Sarah Monk (27:12):
So thanks to Daphné Du Barry. You can see her work on her website, daphne-dubarry.com. And thanks to you for listening. As with all episodes, you can find photographs of the work discussed on our website, materiallyspeaking.com or on Instagram. If you're enjoying materially speaking, subscribe to our newsletter on our website so we can let you know when the next episode goes live.