Christian Lange:

A devil's tool
1 July 2020 | 21 minutes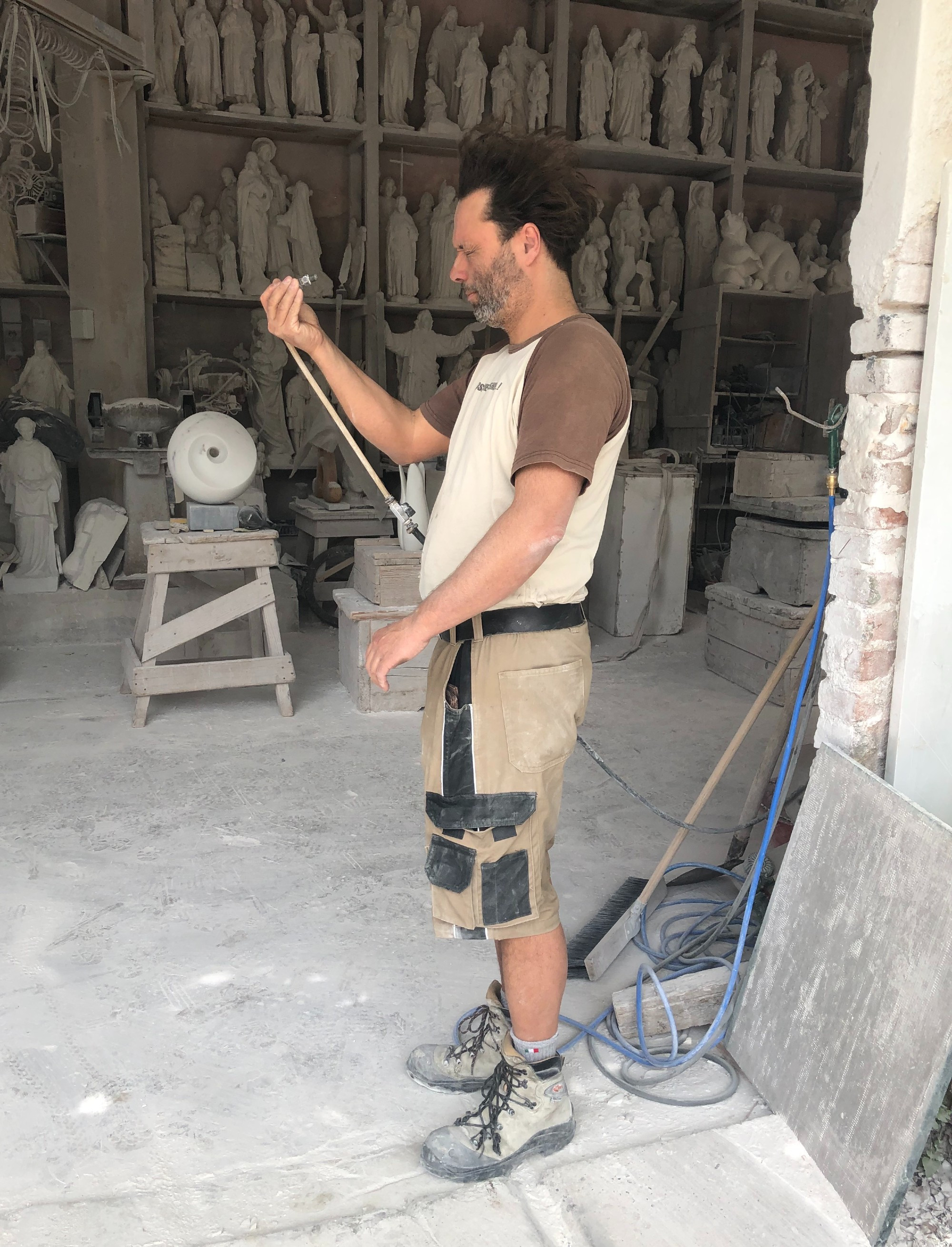 Christian Lange, blowing off stone dust with compressed air
Christian Lange apprenticed as a chiseller in Freiburg, Germany, and started out as a stonemason restoring churches before coming to Pietrasanta to try his luck as an artist. Then he fell in love and his work took a slightly different direction. He decided to build his career as an artisan and now creates ornamental pieces and sacred art, as well as collaborating with artists to realise their visions in marble.
He talks about the responsibility of selecting a block of marble to work on, outlining some of the challenges in finding the right piece for a particular work.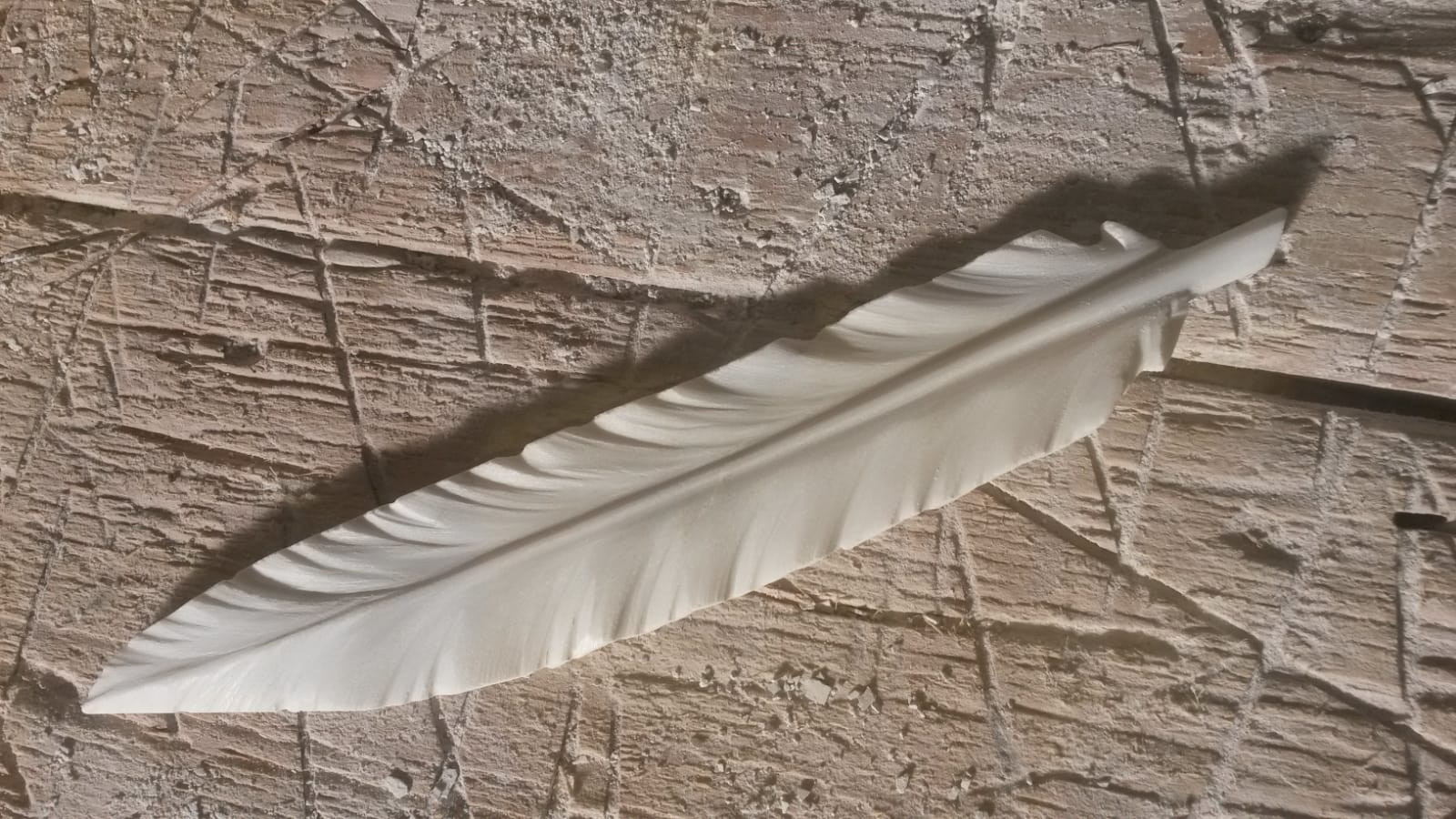 Christian Lange, Feather, 27cm. One of 100 made during the Covid-19 lockdown for a charity auction, July 2020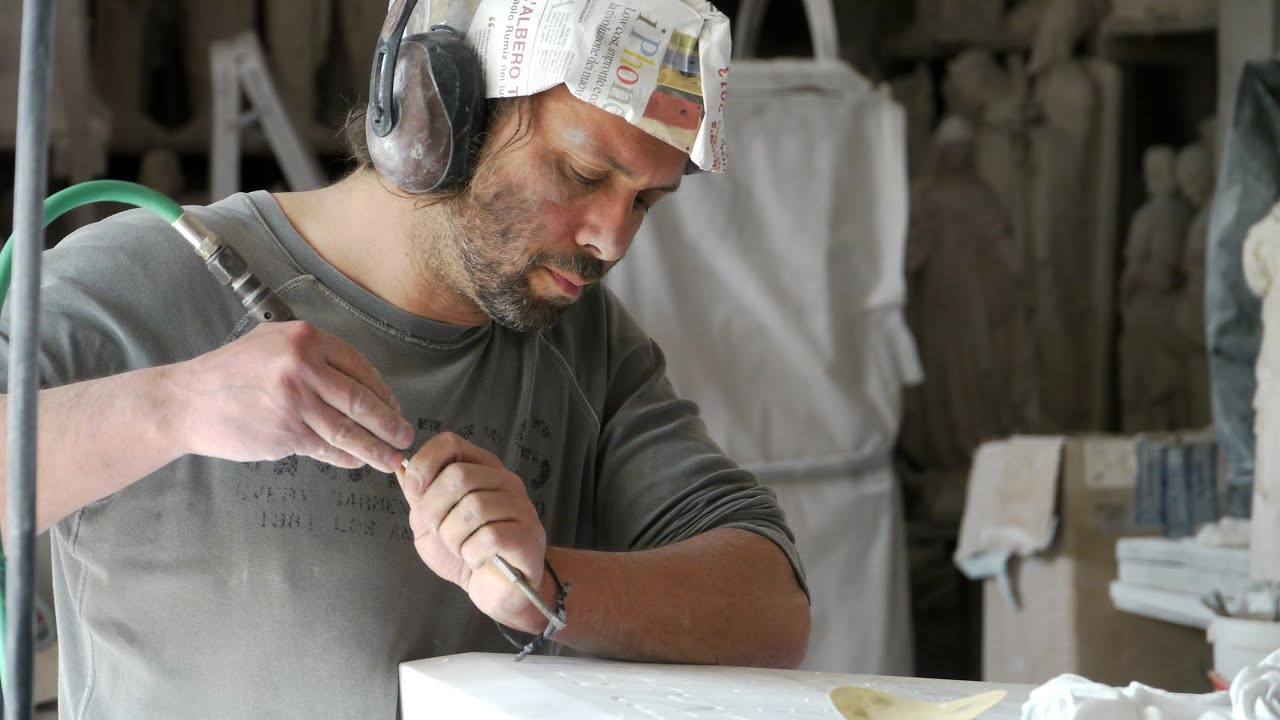 Christian carving marble with a pneumatic tool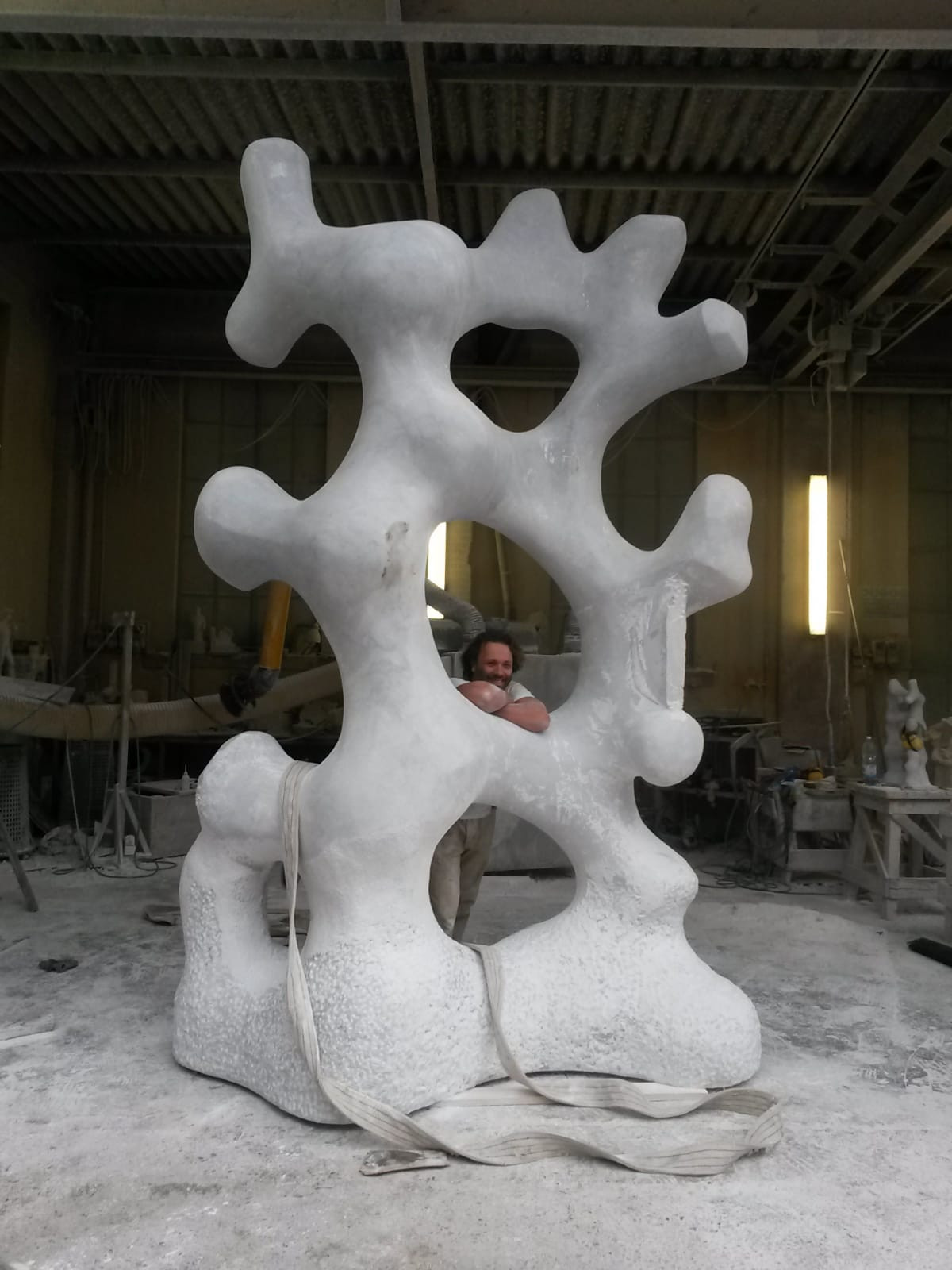 Christian Lange, Sea Foam, commissioned by Stonesculpt, installed in California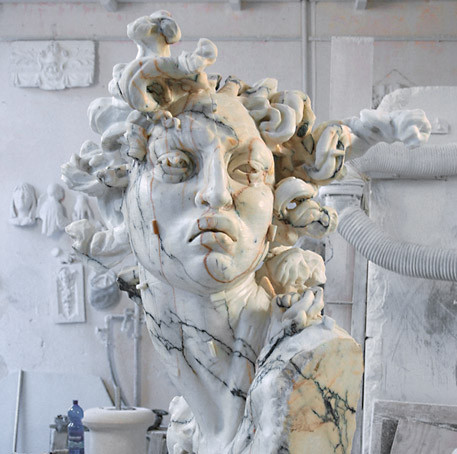 Christian Lange (artisan), Javier Marin (artist), Medusa, for Studio Stagetti, Pietrasanta
Christian also teaches sculpting courses and has his own apprentices. He reflects on the new technology acknowledging that an air hammer or electric powered chisel, ubiqitous in sculpting today, would be considered a devil's tool by the artisans of a hundred years ago. He laments the dearth of young apprentices coming up the ranks. In his day, he says 'the apprenticeship was three years where we worked only by hand. No electric power tools, no air pressure, everything with really very old-fashioned hand-tools. Slow. But for learning, I still believe that learning something slowly is probably better.'
He loves the challenge of making figurative work but says that it's more expensive because it takes much more time.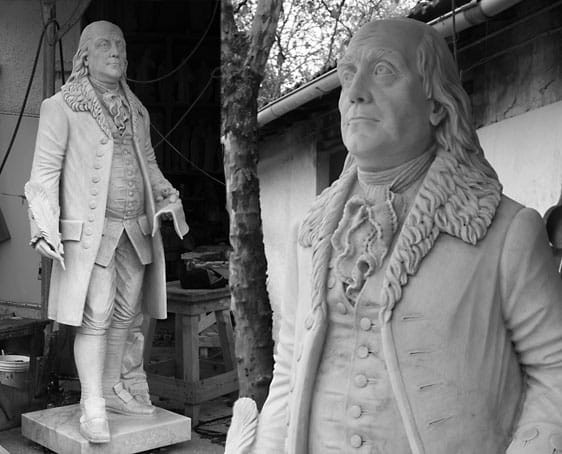 Christian Lange, Benjamin Franklin, height 250cm, Stanford University
Christian Lange, Johannes Gutenberg, height 250cm, Stanford University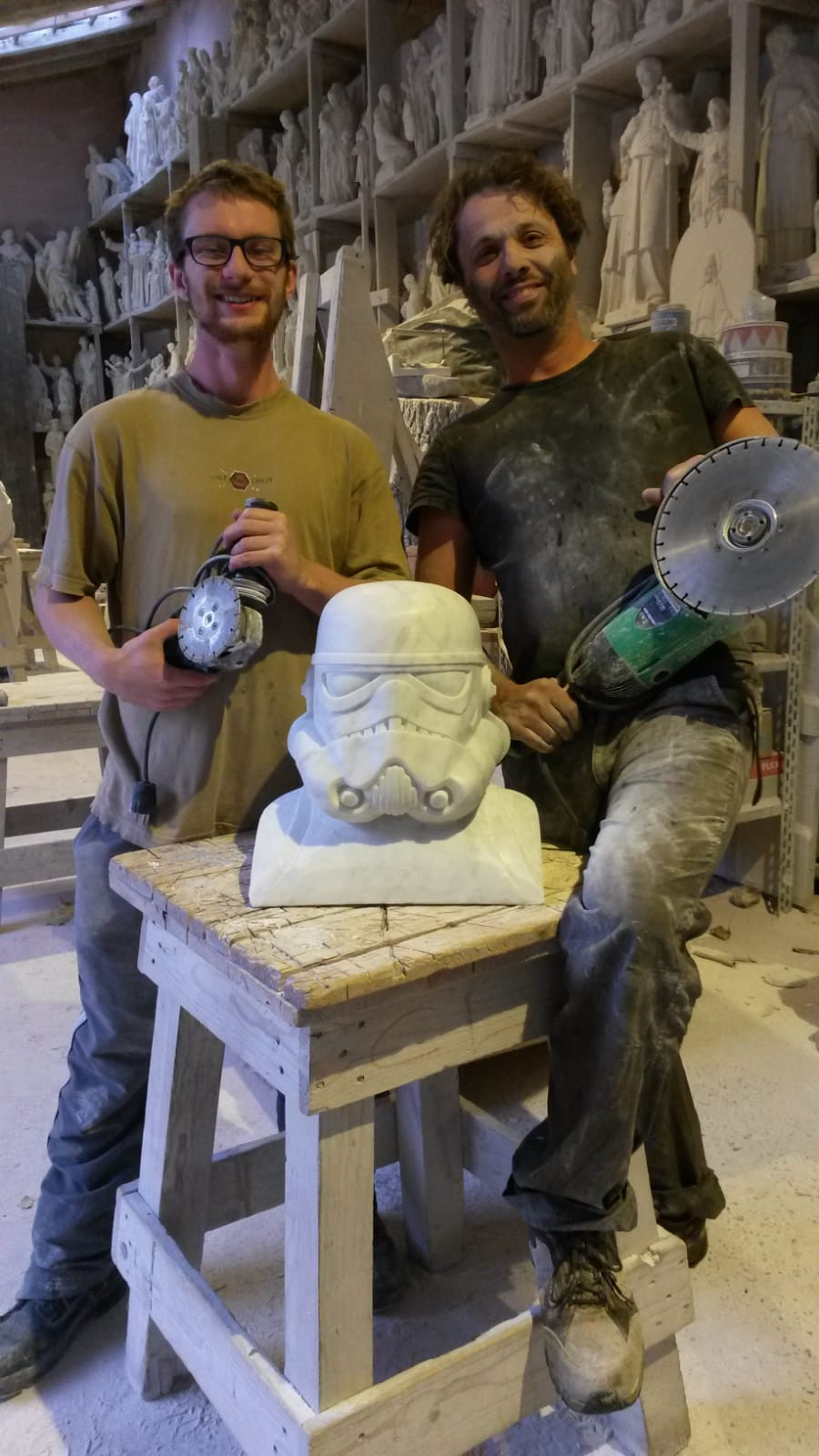 A student (left) with Christian (right)
Christian standing with Fontana Etruria, Campana Brothers. Discussed during Stephan Hamel episode
Producer: Sarah Monk
Episode editor: Michael Hall
Music: courtesy of audionetwork.com:
Discover 6 (60), Craig Bussey and Michael Edward Mclafferty

Gentle Journey 2, Giovanni Antonio Parricelli

Gentle Journey 4, Giovanni Antonio Parricelli