Emmanuel Fillion:

The art of cutting stone
26 May 2021 | 42 minutes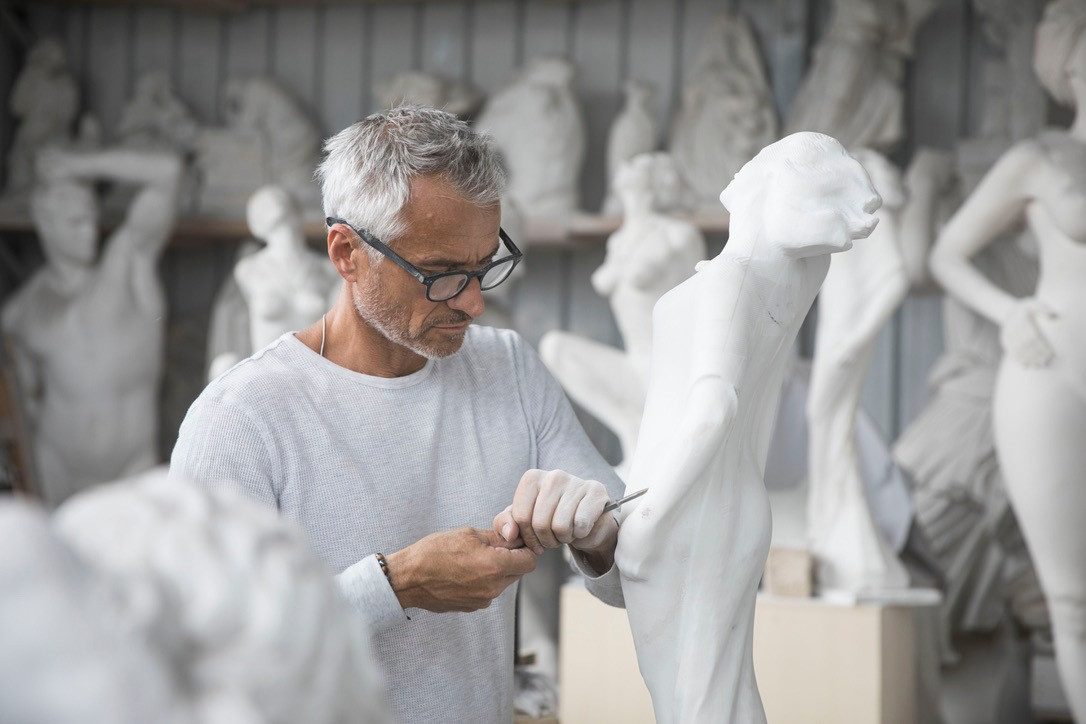 Born in Soissons, France, Emmanuel went to trade school at the age of 16 to learn how to renovate historical monuments by hand, specialising in granite. He spent some years restoring churches, cathedrals and monuments all over France until he felt the calling to create his own work as an artist.
He says women and the female form are a constant source of inspiration. Dance is a strong theme in his work and began with a homage he did for Martha Graham which lives in the outdoor sculpture garden at the Wallis Theatre in Beverly Hills, LA. The models he used from a French dance school in order to make that sculpture impressed him hugely and, he says, gave him a lifetime of inspiration, adding that he felt he was surrounded by walking sculptures.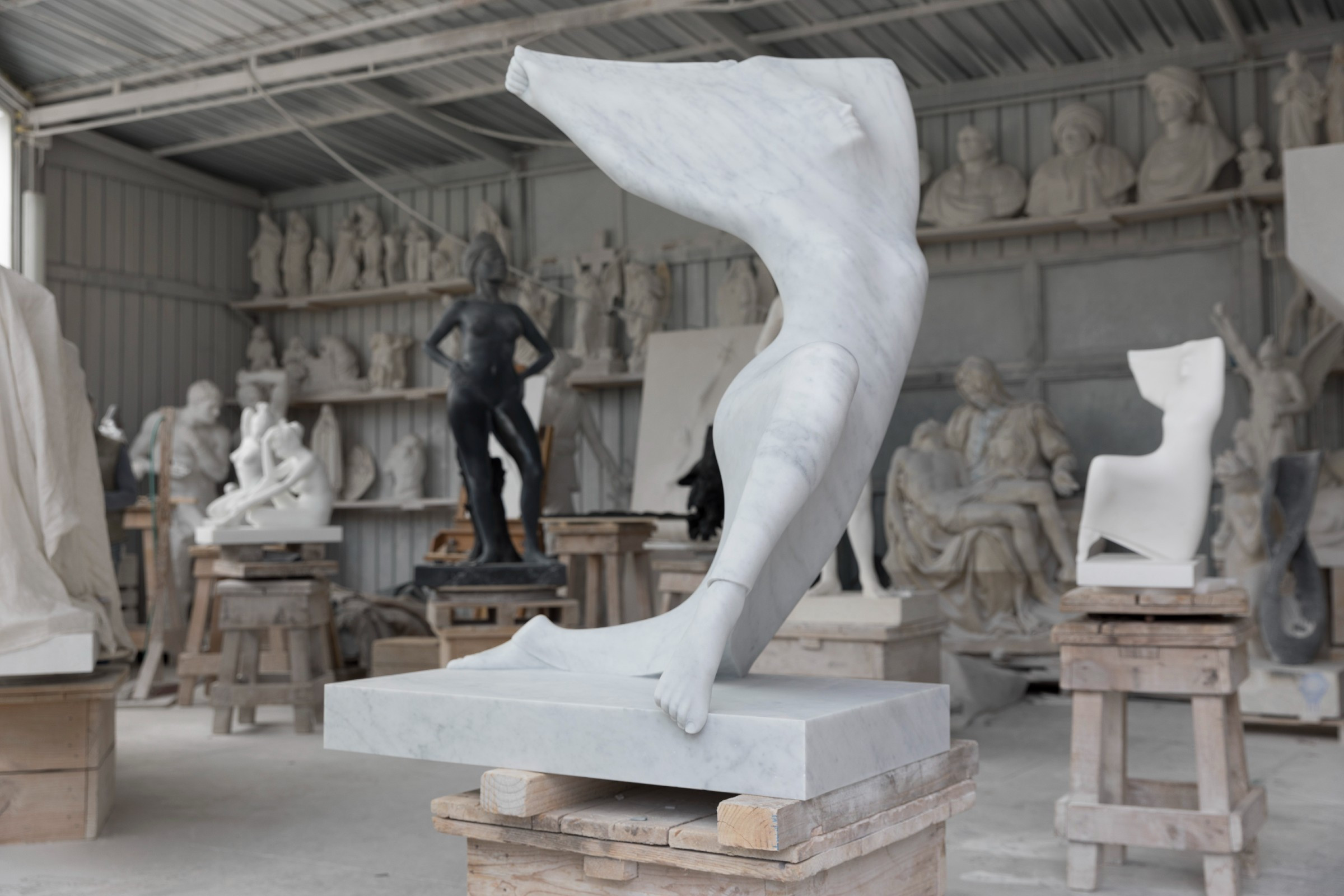 Emmanuel Fillion, Exaltation, 2019, white marble, 67 × 34 × 50 cm. Photo: Nicola Gnesi
Emmanuel Fillion, Exaltation, 2019, white marble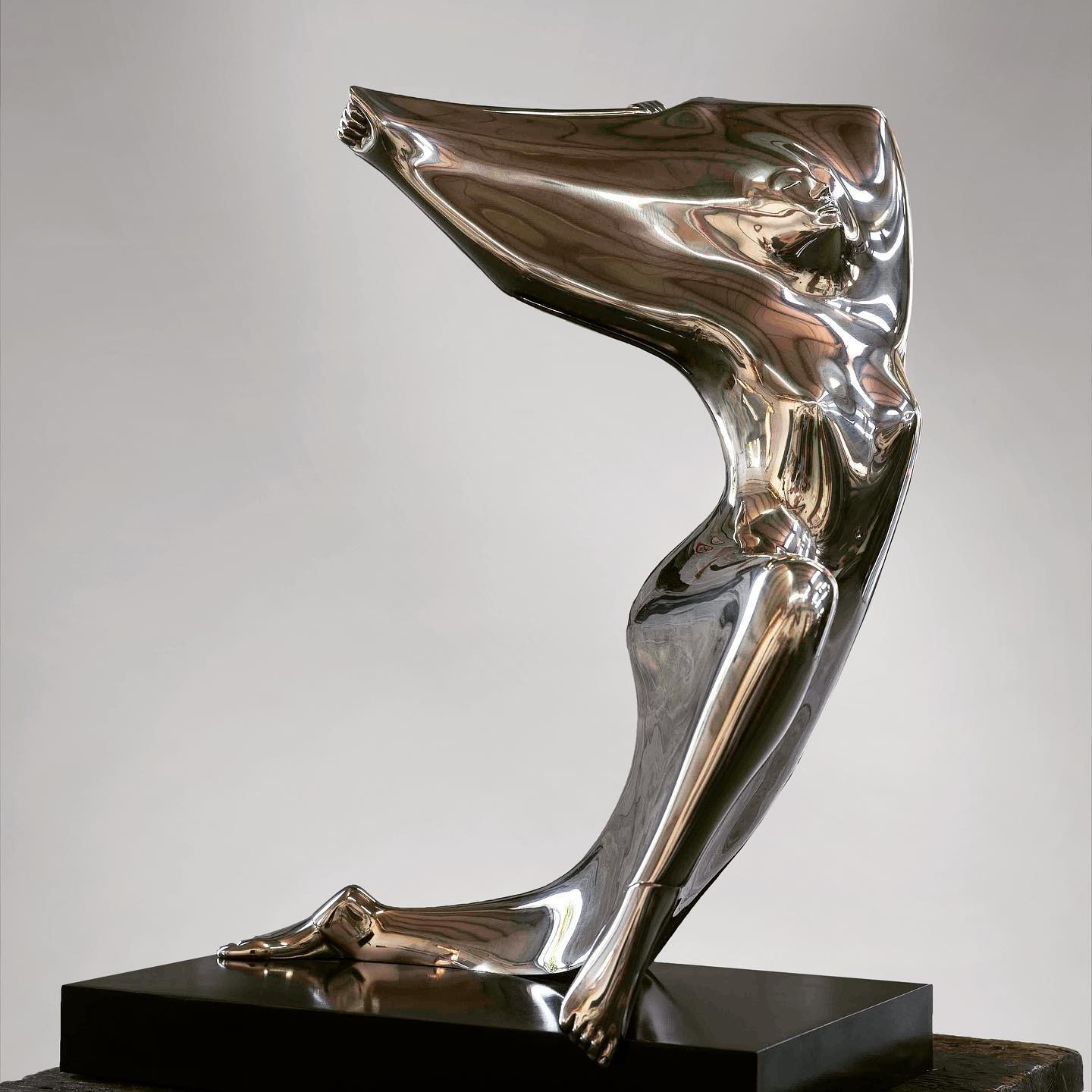 Emmanuel Fillion, Exaltation, 2019, polished white bronze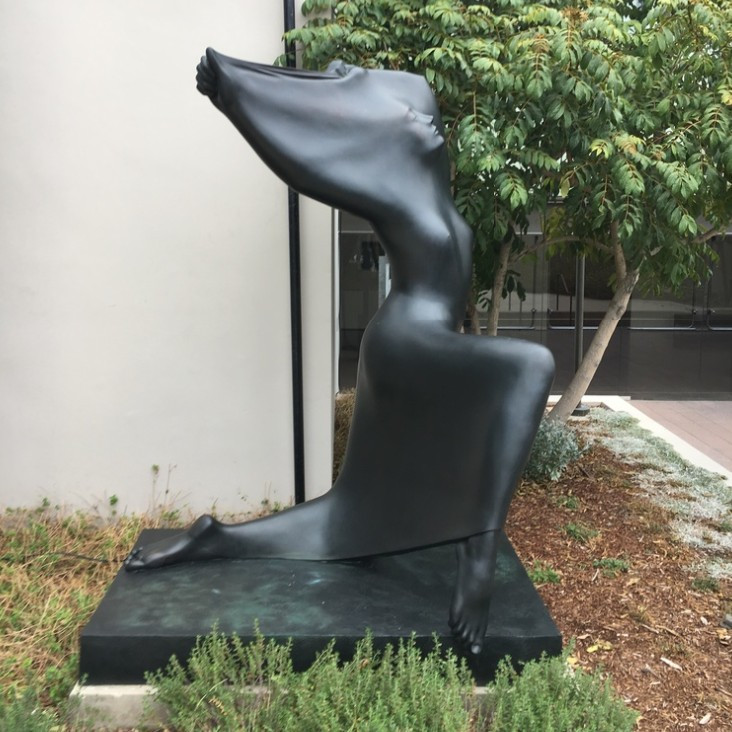 Emmanuel Fillion, Exaltation, 2019, patinated bronze
For a recent show Emmanuel made a triptych of Exaltation – one carved in white marble, another cast in polished white bronze, and the third in natural bronze with a patina. He explains how he wanted to illustrate how the same subject feels completely different when created in a different material.
Emmanuel displays his extraordinary carving skills in his portrayals of Kinbaku – the Japanese art of tying rope around a person using visually intricate patterns, typically with several pieces of thin rope (often jute, hemp or linen). He believes the practice is empowering because the people are not tied in their mind, in fact they are very free.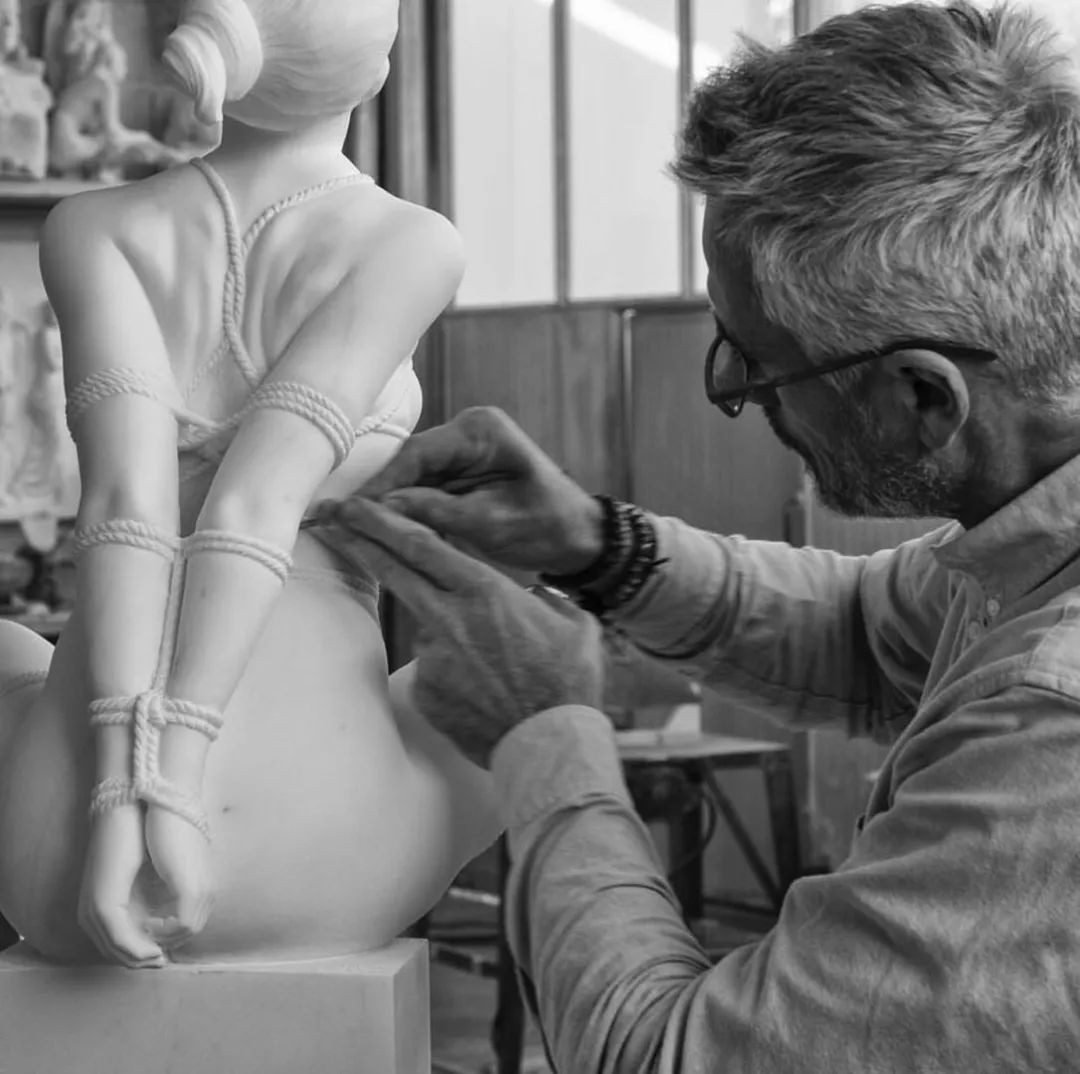 Emmanuel Fillion, Shibari I, 2019, white marble
While Emmanuel was carving in white, bianco p and statuario marble, some of his black women friends asked why he didn't sculpt black women. He says, 'I felt like, well, I'm not going to sculpt a black woman in white marble. It kind of doesn't make sense because part of their beauty is their colour. I mean, it's not a colour, but it's being black. So I went to a quarry in Belgium and purchased some beautiful black marble blocks. And it's really an homage to them. And I hope they're happy, but I think a lot of them, they express their contentment.'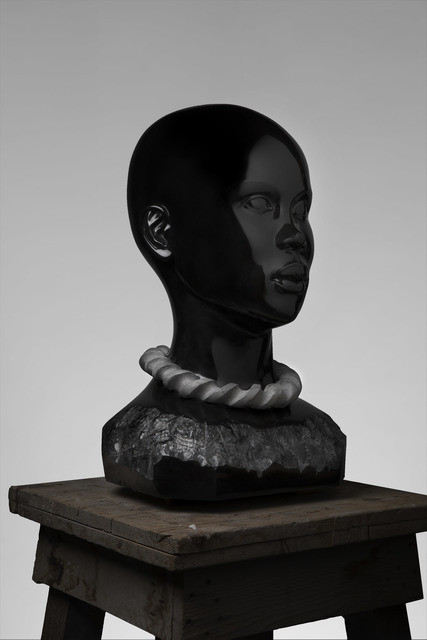 Emmanuel Fillion, African beauty, 2019, Belgian black marble, 66 × 42 × 32 cm
Emmanuel describes how he was affected by the fires in California and the south of France. He admires the resilience of nature whereby a forest is reborn afterwards, growing back twice as beautiful. It was then that he started to make pieces with burnt wood.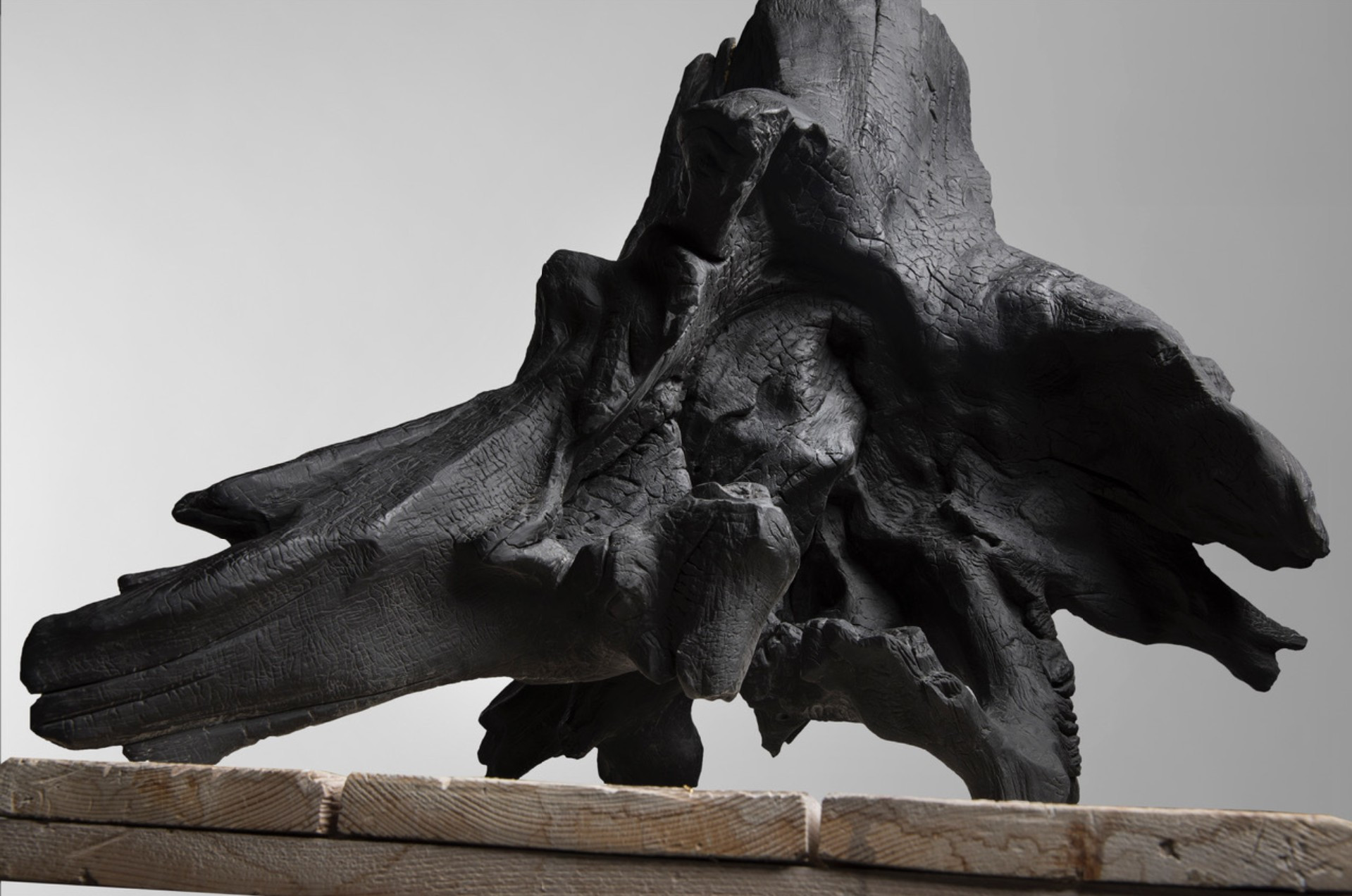 Emmanuel Fillion, Tronc brule, 2019, Belgian black marble and gold leaf, 72 × 76 × 50 cm
Emmanuel comes from a family with a famous painter, Jean Cousin the Elder. Cousin was a Renaissance painter who painted Eva prima Pandora in 1500, which is in the Louvre, Paris.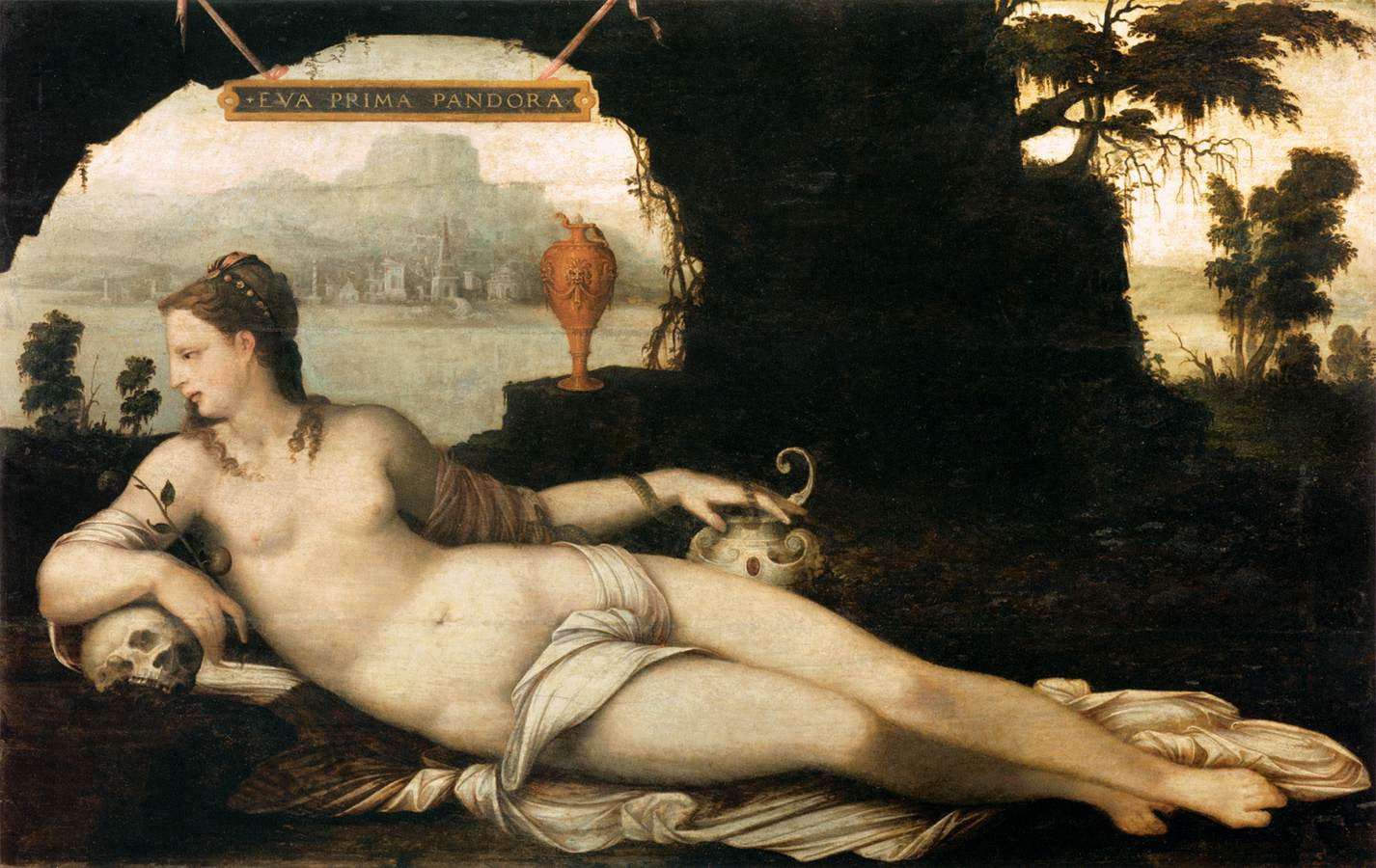 Jean Cousin the Elder, Eva prima Pandora, 1550
Emmanuel and I met at Massimo Galleni Studios, who specialise in reproducing classical sculptures, just outside Pietrasanta. He also referred to Mario Tavarelli who showed Emmanuel around when he first arrived in Carrara in 1995. Mario was the owner of a marble company and had guided the novelist Irving Stone during his research for his book on Michelangelo, The Agony and the Ecstasy.
Producer: Sarah Monk
Sound edit/design: Guy Dowsett
Music: courtesy of Audio Network
Form 2 3377/53, Tom Quick

Voodoo Dance 3230/2, Paul Ressel and Theo Travis