Badriah Hamelink:

Absolute power
7 July 2021 | 24 minutes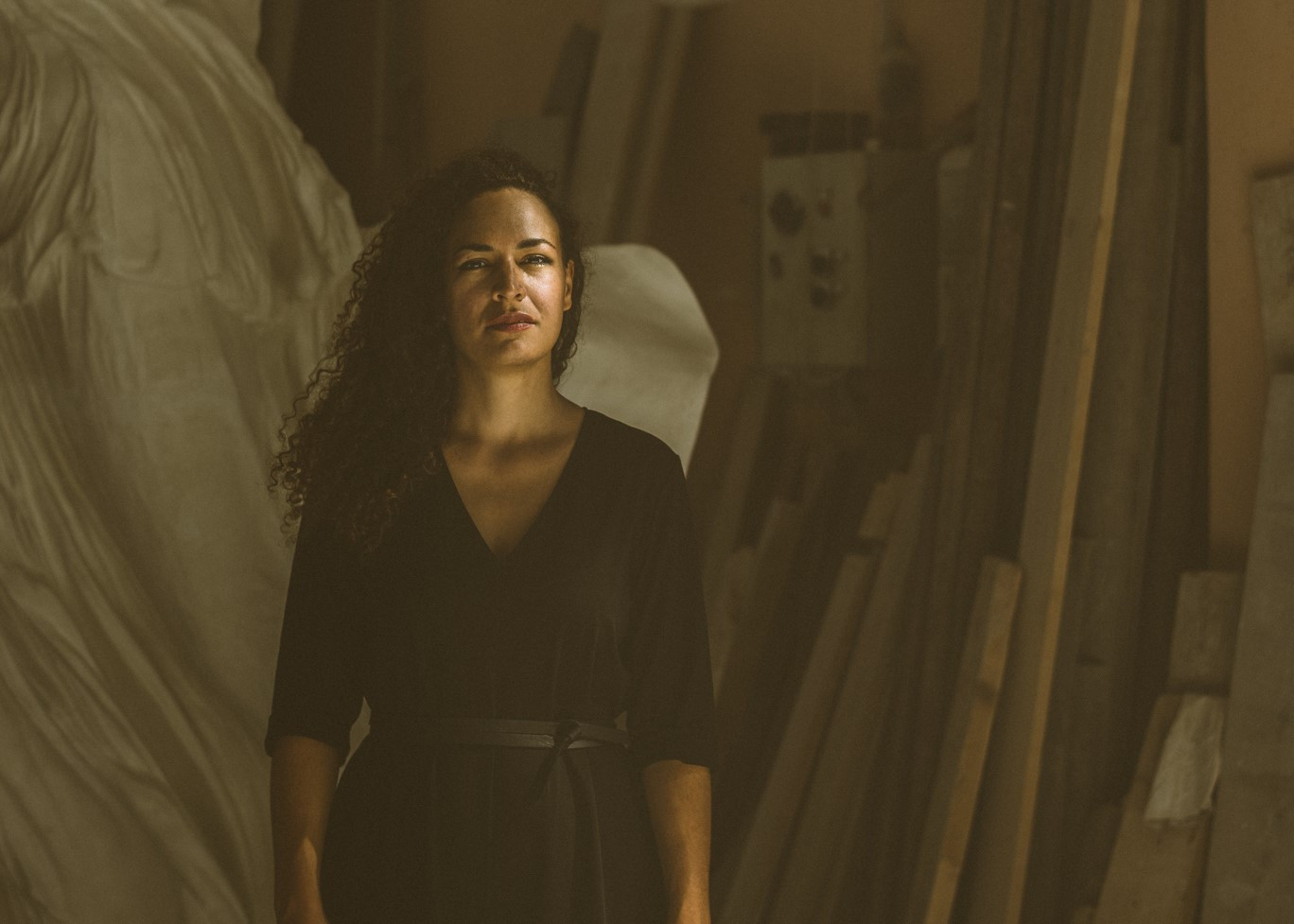 Badriah Hamelink. Photo: Mitia Dedoni
Badriah Hamelink comes from a family of Dutch intellectuals. Her mother is a professor, while her father is the poet and writer Jaques Hamelink. Her grandmother founded the first Arab study centre in the Netherlands.
Her own artistic development however has leant more towards the intuitive than the rational, and when she followed her nose to Pietrasanta she sought mentoring from the artist Armen Agop. Badriah also credits Martin Foot who taught her many carving techniques.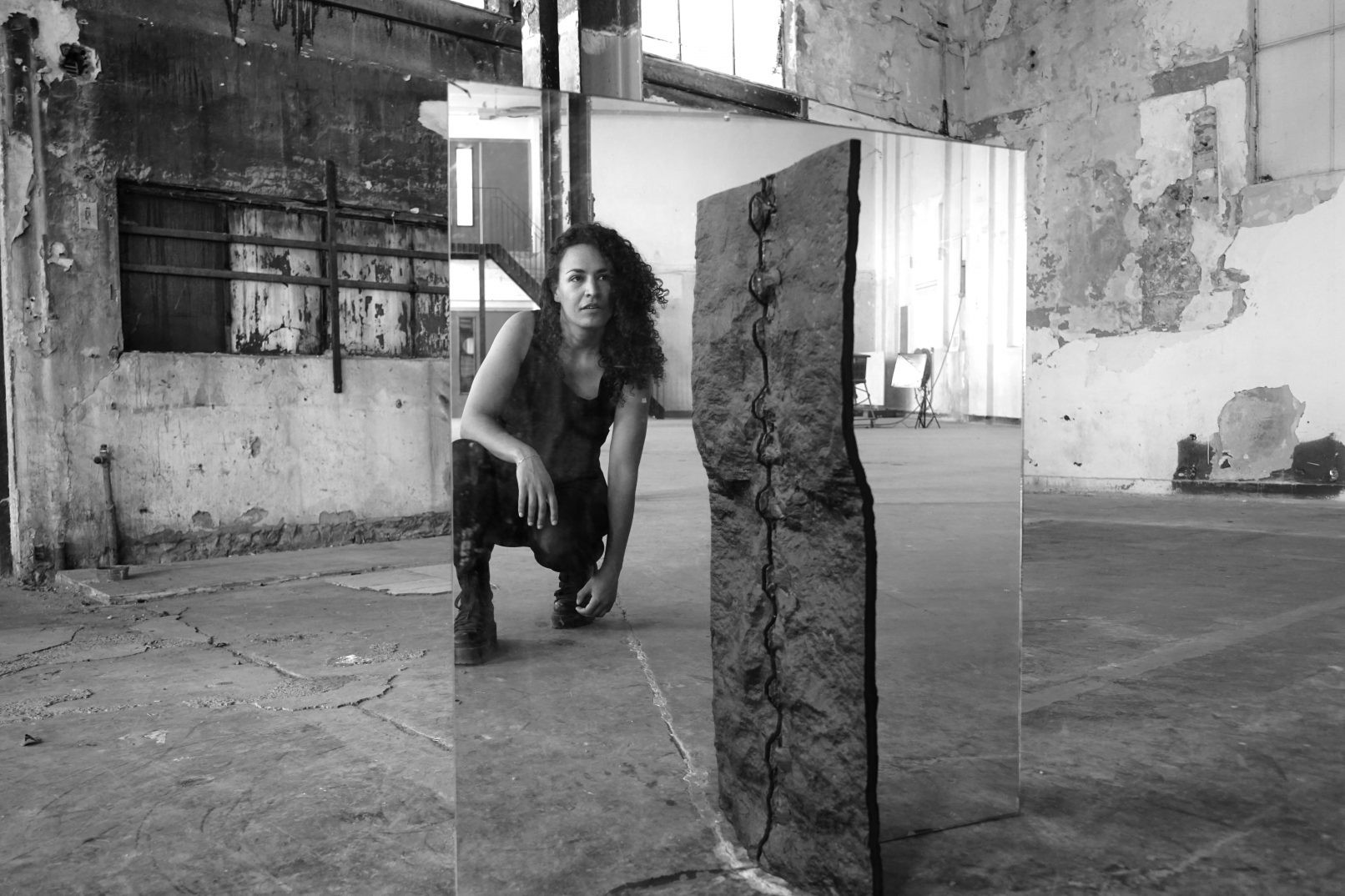 Badriah Hamelink, OBEX 3, 2020, mixed media, 40 × 100 × 100 cm
Badriah's abstract style explores the essence of our existence, and what lies beneath.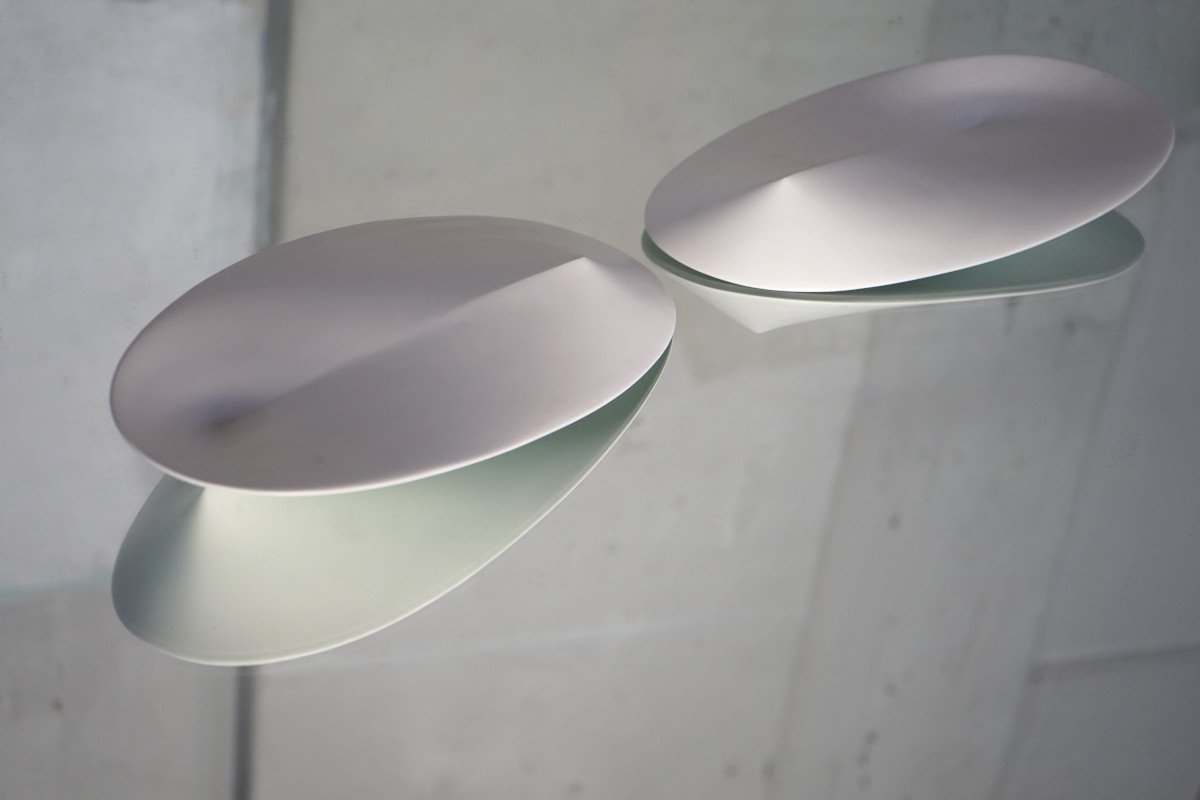 Badriah Hamelink, A3A, 2008–18, mixed media, 36 × 18 × 8 cm each
The piece A3A is visible from both sides. The two objects act as a duet and, as is often the case with kindred spirits, the apparent similarity of the objects also directs the viewers' attention to their minute differences.
Badriah Hamelink, A11, 2020. Music: Vanessa Amara
Recently Badriah had a near-fatal accident due to a four-and-a-half metre fall resulting in heavy concussion. While recovering, she started playing around with and reworking old images she'd taken. By 'mirroring' some of them, she discovered the importance of reflection and symmetry as a way of expressing balance and equanimity.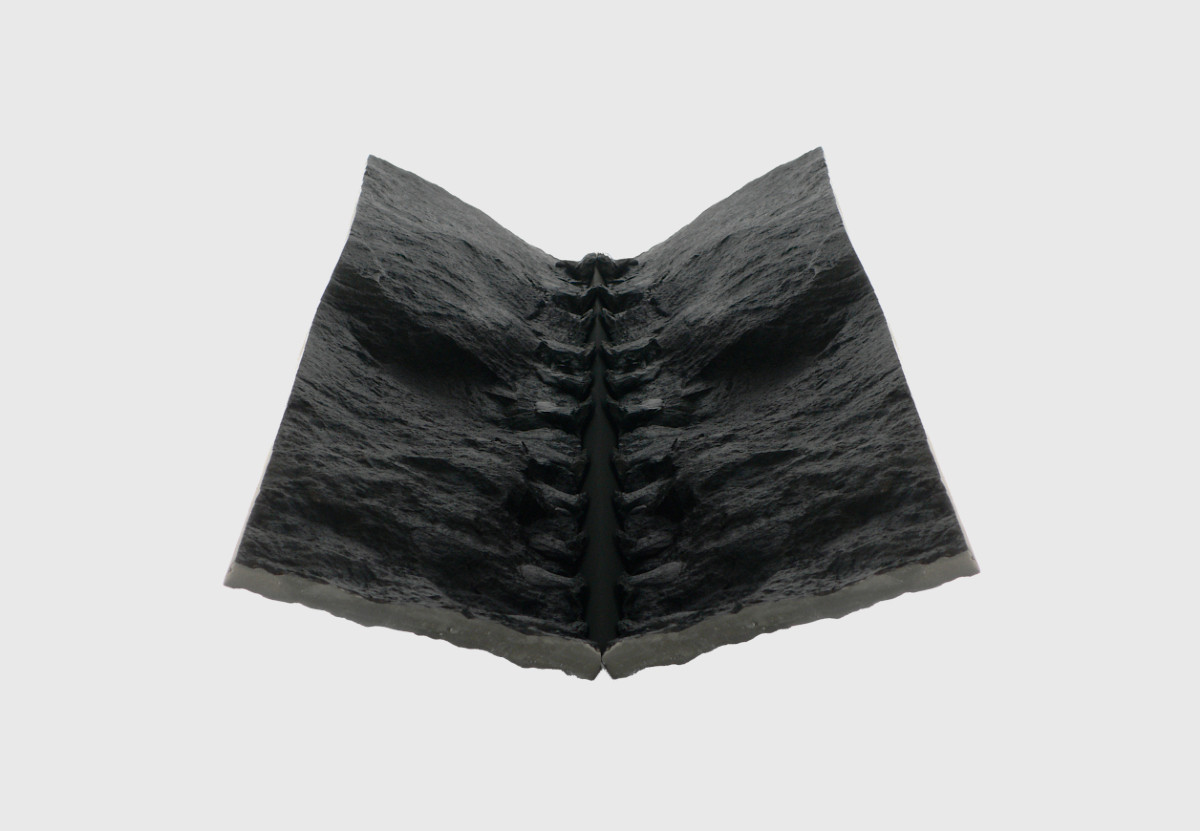 Badriah Hamelink, OBEX 4, 2020, digital montage print, 100 × 100 cm
Badriah found that if you hold a shape against a mirror you immediately see something organic – even the most inorganic surface will seem to produce an organism in front of your eyes. It's what our minds are wired to do.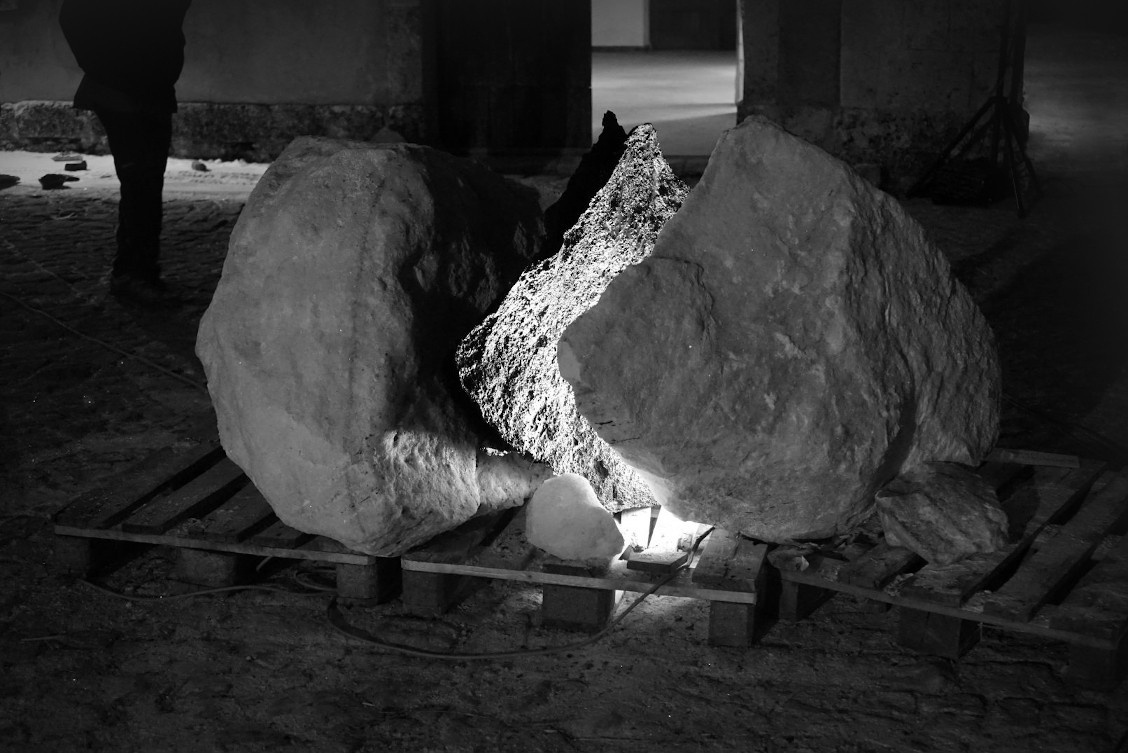 Badriah Hamelink, PROLIFERATIO, 2019, salt and mixed media, 120 × 200 × 150 cm
The first piece that Badriah made after her accident was PROLIFERATIO which consists of a block of two tons of salt, split in half and a cast of the rupture in black polyester. Where the pure and natural salt has opened up, the black synthetic proliferates out of its core, as if a tumour growing at the same speed as the mineral. It seems to suggest: 'At the moment of birth our death is born as well' which, Badriah says, is the only certainty we have. This work is currently in the collection of the Museum of Contemporary Art Sotto Sale, Sicily.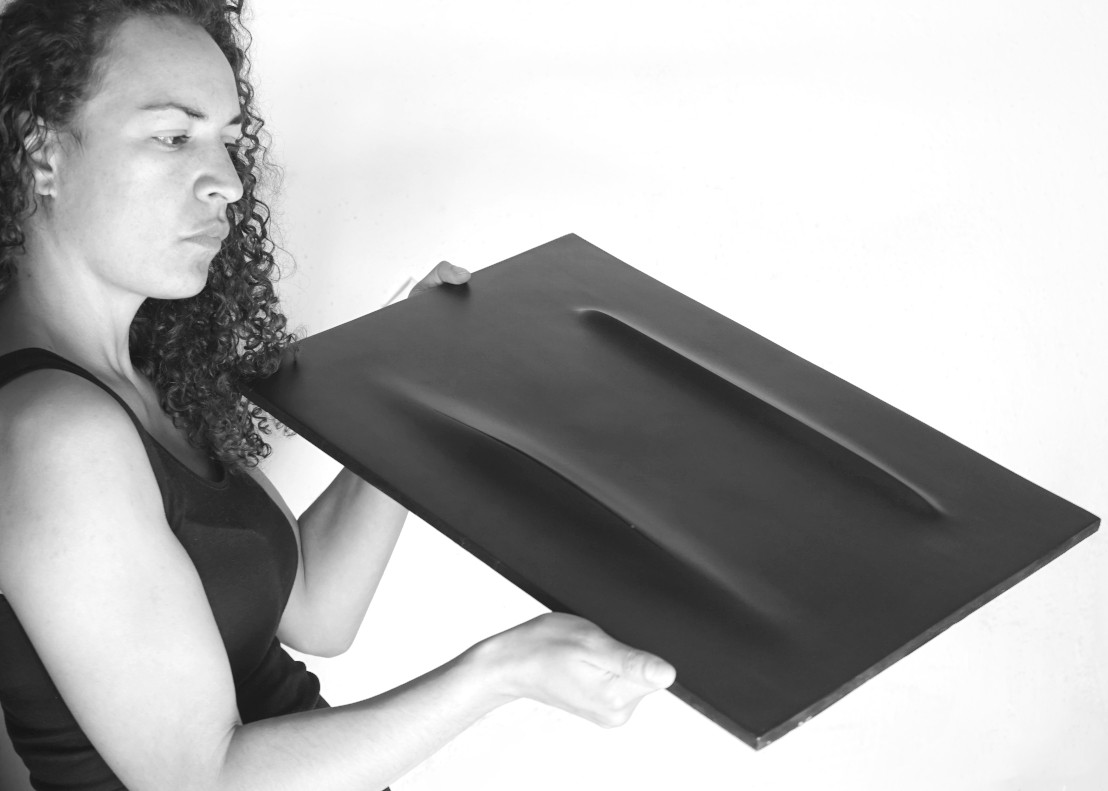 Badriah Hamelink, A5B.2, 2011–19, mixed media, 56 × 38 × 2.5 cm. Photo: Nina de Raadt
The relief, A5B.2, was inspired by photographs from the Hubble deep space telescope of two extraordinarily thin galaxies, NGC 4452 and OPO 0624. Badriah created a heightmap of the visual data and based a sculpture on it's features. The work re-materializes the far-away light sources to throw a rippling onto the physical surface.
In 2017 Badriah founded Atelier BSH which continues to produce her artworks in stone and metal. Her work has been displayed in galleries and museums in New York, Luxembourg, Stockholm, Milan, Prague, Hawaii and Amsterdam.
Constantly experimenting with new materials and always driven to further her career as an artist, Badriah recently applied herself to learning the ancient Japanese art of stone splitting.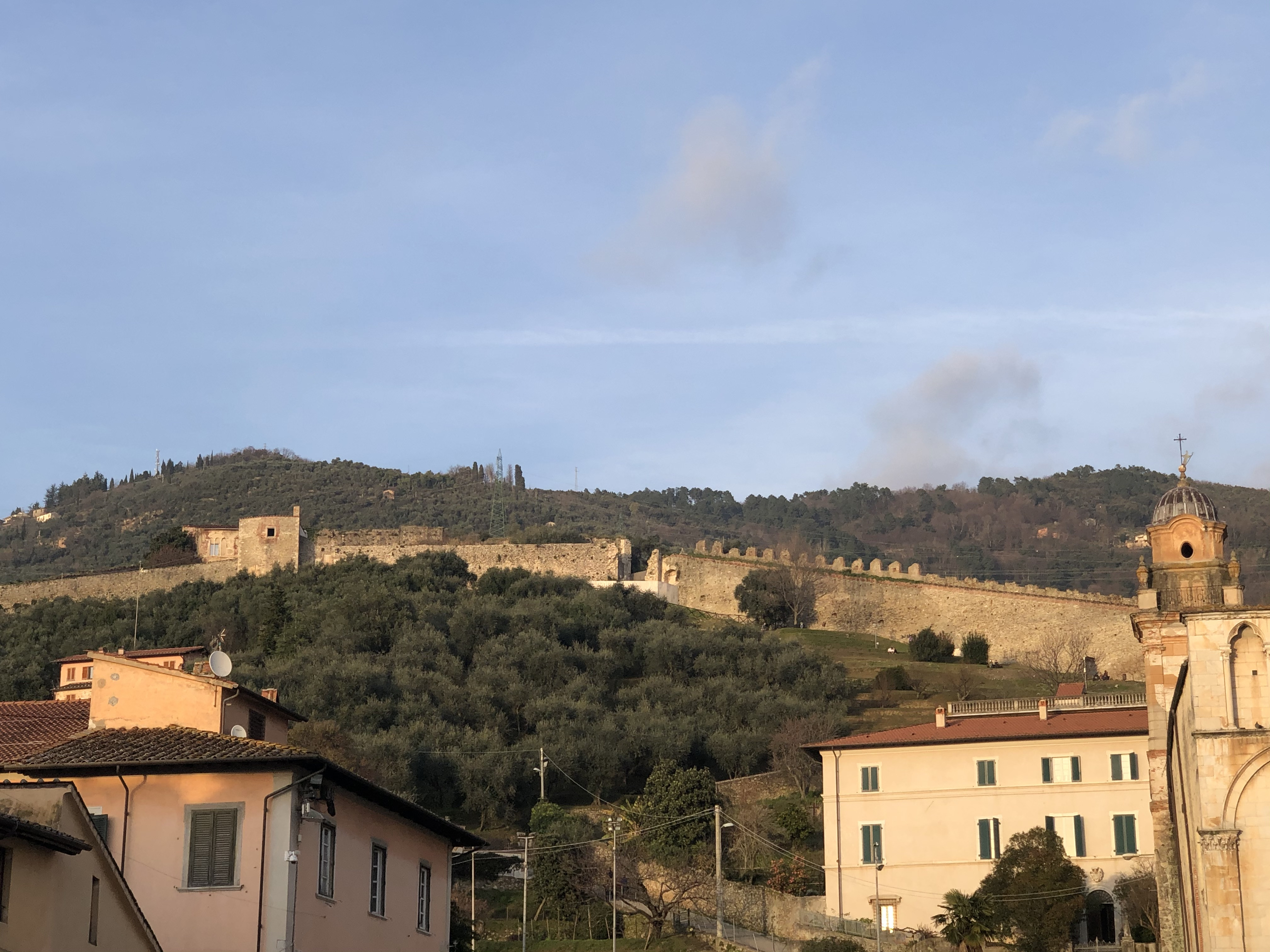 Rocca di Sala, the walled fortress on the hillside just above Pietrasanta centre where Badriah took refuge when she first arrived with a backpack in 2007
Producer: Sarah Monk
Sound edit/design: Guy Dowsett
Music: courtesy of Audio Network
Gravity Lift 3252/7, Nathan Feddo and Henry White

Desert Sky 3 1866/21, Bruce Maginnis
Unless credited otherwise, all photos: Badriah Hamelink