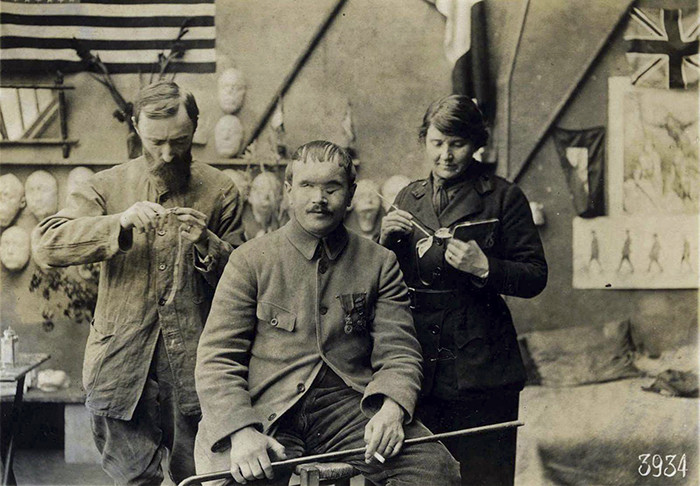 Anna Ladd (right) in her Studio for Portrait Masks, Paris, during a fitting
During troubled times artists frequently help out in practical ways. Anna Coleman Ladd (1878–1939), was an American sculptor who contributed to the 1914–18 war effort in a most unusual way. Anna founded the Studio for Portrait Masks in Paris. Here she worked tirelessly during WWI using her considerable skills to produce cosmetic face masks for men who had been badly disfigured in the fighting and to ameliorate the effects of what were then crude attempts at plastic surgery. This black-and-white film from the period has no sound but tells an uplifting tale, with no need for words:

If you want to find out more about Anna Ladd, Professor David Lubin has written a book, Grand Illusions: American Art and the First World War, and in this short interview he speaks about her:
Professor David Lubin author of Grand Illusions: American Art and the First World War
If you are an artist pitching in to help others during the Covid-19 pandemic, or you hear stories of how other artists are doing this, please let us know at sarah@materiallyspeaking.com.