Coronavirus food bank appeal
6 April 2020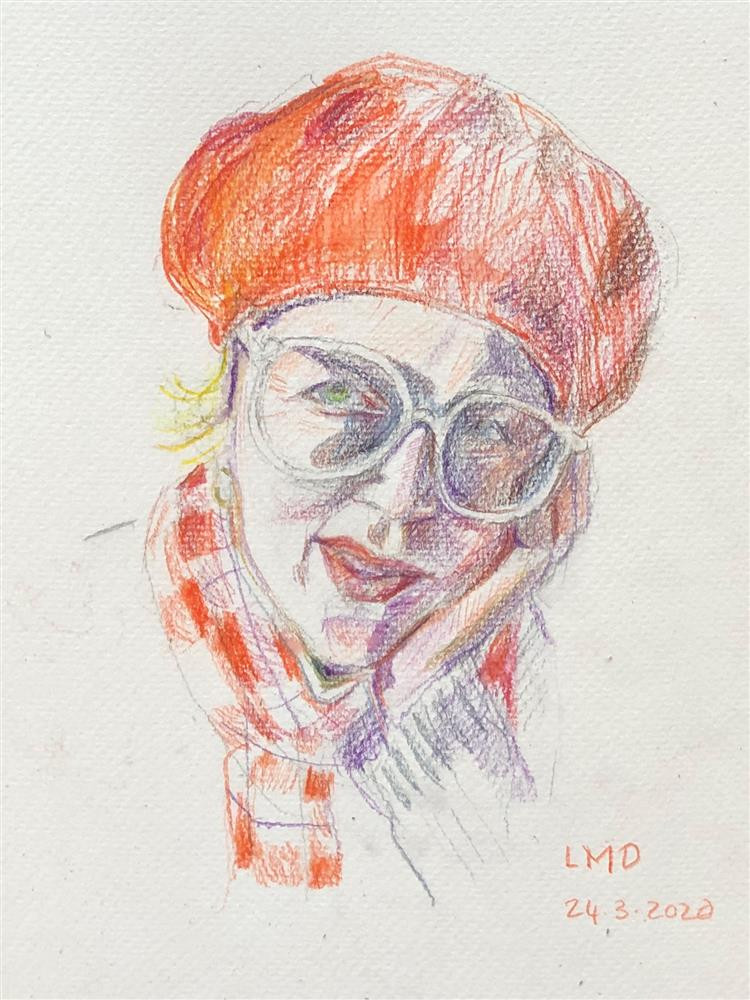 Lucy Dickens, self-portrait in coloured pencil
Lucy Dickens is a great, great granddaughter of Charles Dickens and began her career as a full-time artist in 1990. Previously she worked as a fashion stylist for Condé Nast. She was also a freelance illustrator for publications including the Financial Times, the Daily Telegraph and Vogue and wrote and illustrated a series of children's books published in London and New York.
Over two years ago Lucy began doing a daily sketch and uploading it to Instagram. To her surprise, she discovered this new medium loosened her up. She no longer felt the need to finish every work perfectly. What started as an exercise brought her a new freedom and confidence.

Early in 2020, just as the pandemic began, Lucy had finished preparations for her next show, a series of big acrylics on canvas to be shown at Cricket Fine Art. The show was put on hold, Lucy stored the work away and – knowing she couldn't work with acrylics for a while – looked around for a new medium, something completely different and ideally one that required a change of pace.
Lucy had already been working with coloured pencil on Instagram, when she visited the David Hockney exhibition at the National Portrait Gallery and saw his Paris portraits from the early 1970s. Inspired, she picked up her coloured pencils again and discovered how a limited palette of basic colours stretched her, forcing an exciting degree of improvisation. She found this process of changing tack, like a yacht, inspiring and feels it's one of an artists fundamental skills.
Seeing Hockney's serious coloured pencil portraits also gave her an idea of how to help with the pandemic.
She wanted to support the food banks which are a lifeline for an increasing number of people who cannot afford the basics of life. Last year, food banks in the Trussell Trust network provided 1.6 million three-day emergency food parcels to those in crisis, with over 500,000 of these going to children. As the Covid-19 pandemic develops, the pressure on food banks increases daily.
Despite the gloom, Lucy insists 'we all need colour'. If people donate £50 to the Trussell Trust she'll undertake to do a portrait from a photo of a loved one, be it human, dog or cat. Here she describes how it works:
1. Email favourite photo/s (not more than three) to me: lucy@lucydickens.com
2. I will only draw head and shoulders (no teeth or funny faces please!)
3. I can also draw cats and dogs (full body)
4. All drawings will be 24 x 32 cms on paper
5. I will use colour pencils
6. Once I receive the photo/s, I'll confirm that I can do the portrait/s and you can then make your donation on this page
7. I plan to draw one portrait per day and will send by post
8. I will post some of the portraits on my Instagram.
To participate in Lucy's coronavirus food bank appeal click here.
Though Lucy's show at Cricket Fine Art has been postponed, you can see some of her work here
Follow Lucy on Instagram
Lucy's website
David Hockney at the National Portrait Gallery