75th anniversary of VE day
8 May 2020
'I work in a very traditional way. It's all hand-work. From the models, to the actual size sculpture, there is nothing mechanical in this process … It's been done [this way] for thousands of years. In a way, it's even a privilege today to make it this way' says Sergey Eylanbekov, sculptor of the Dwight D Eisenhower Memorial.
The Memorial was meant to be dedicated on Capitol Hill in Washington today (8 May 2020), the 75th anniversary of VE day, but has been postponed because of the Covid-19 pandemic. Sergey tells how he created his part of the Eisenhower Memorial in this fascinating video. He used angularity, wrinkled clothes and exaggerated proportions to capture the energy and tension of the moment the general briefed his troops.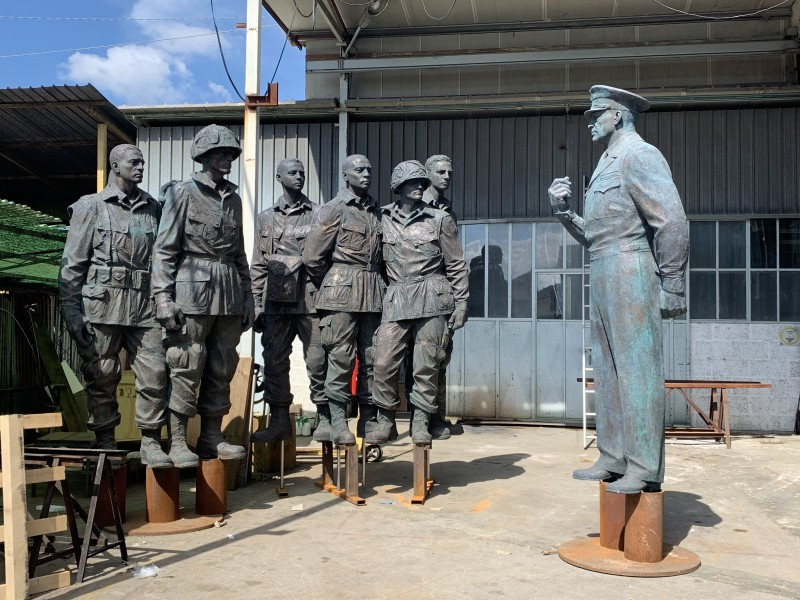 Finished bronze sculpture of Dwight D Eisenhower, by Sergey Eylanbekov outside the bronze foundry, part of the Mariani Artistic Foundry. Destination: Washington DC
Sergey, a Russian-American sculptor who has worked in Pietrasanta for years, explains his process: from making the clay models in Giancarlo Buratti's studios, to casting in bronze the three-metre-high figures at the Mariani Artistic Foundry. As well as Eisenhower as general, there is also Eisenhower as president and an impressive 12-metre-long marble bas-relief which Sergey carved at Cervietti studios.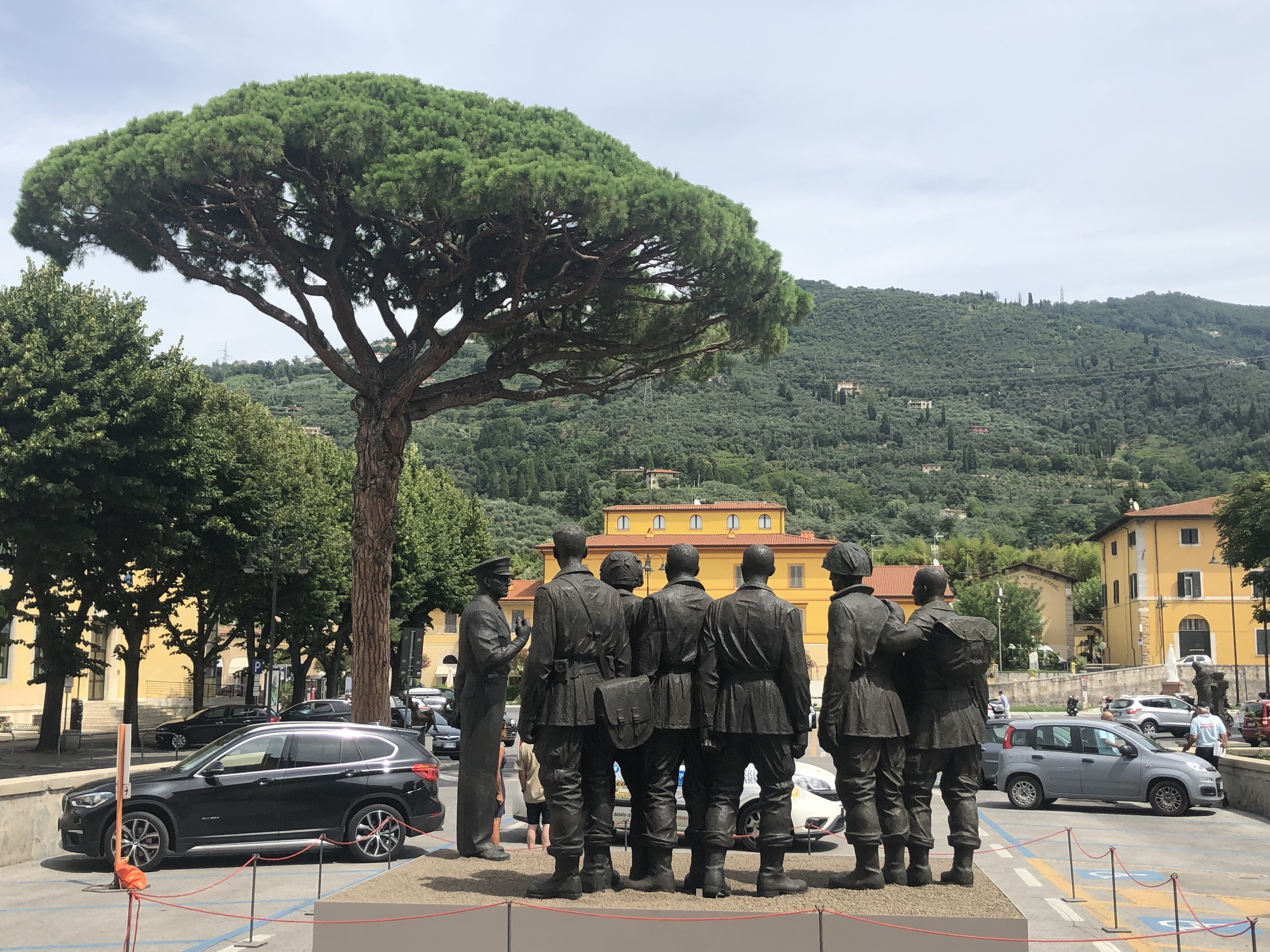 This part of the Memorial sculpture shows general Eisenhower (far left) addressing six paratroopers from the 101st Airborne Division outside the town hall, Pietrasanta, August 2019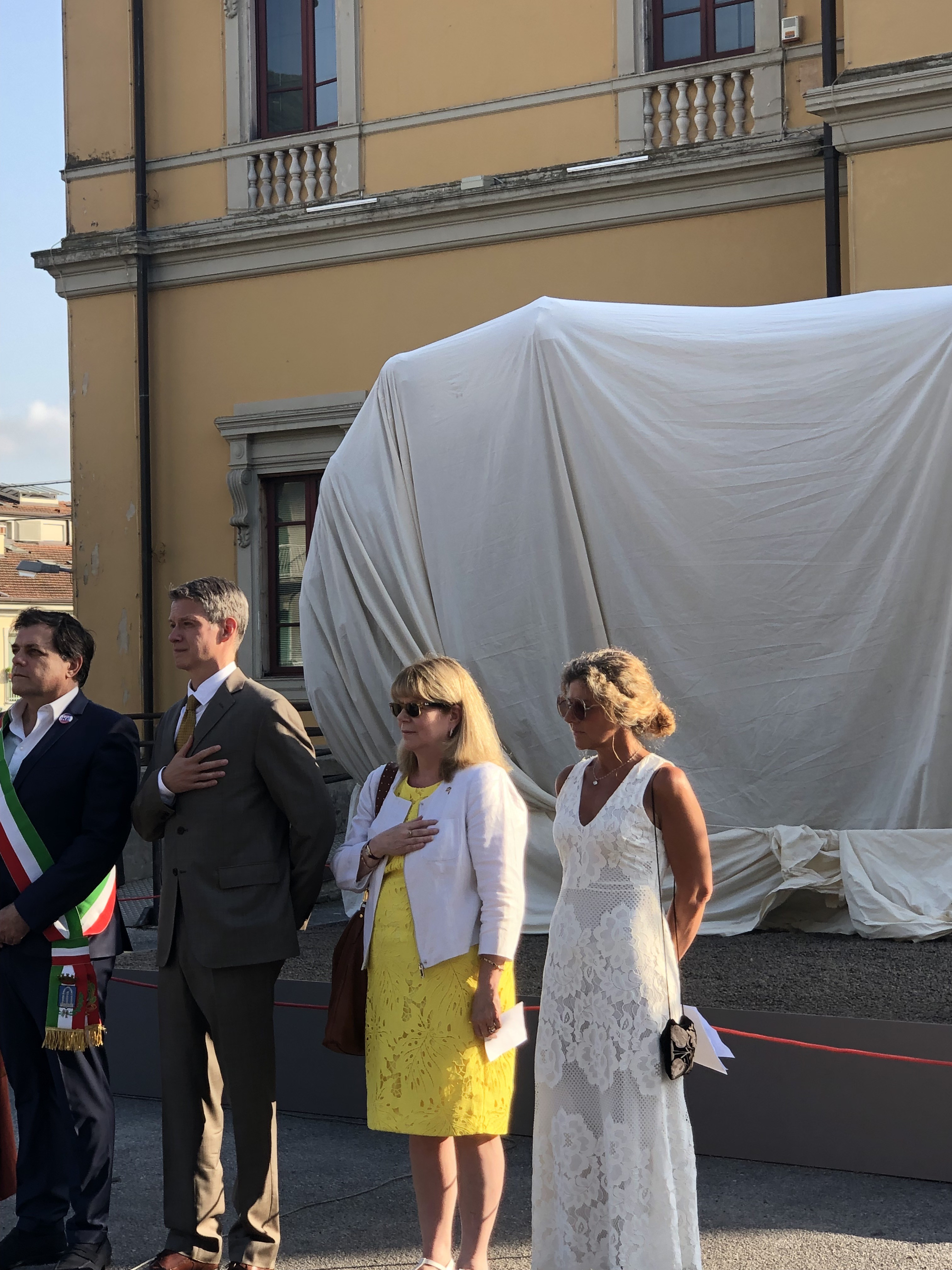 American and Italian dignitaries sing the Italian and American national anthems at the unveiling of the sculptures
Artists often share special commissions with the community and have a party to celebrate finishing the piece, the subject of the sculpture and the skill of the creators themselves. These are often emotional occasions where priests bless the work, choirs sing and speeches are made. In August 2019, members of Eisenhower's family, as well as American and Italian dignitaries, attended an event in Pietrasanta to celebrate the completion of the Dwight D Eisenhower Memorial. American and Italian national anthems were sung, the choir Coro Versilia, who preside over many such unveilings, sang the alpine songs they are so well-known for and the Memorial was displayed for a couple of weeks in the town square outside the town hall for residents and tourists to enjoy.
Fundraising for this memorial has been supported by Colin Powell, Tom Brokaw and Tom Hanks.